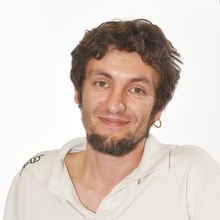 Marco BORTOLUZZI
Position

Associate Professor
Telephone

Lab.: 041 234 8561 / 041 234 8651
E-mail
Fax

041 234 8517
Scientific sector (SSD)

CHIMICA GENERALE E INORGANICA [CHIM/03]
Website

www.unive.it/persone/markos (personal record)

Office

Department of Molecular Sciences and Nanosystems
Website: https://www.unive.it/dep.dsmn
Where: Campus scientifico via Torino
Room: room 614/A (ALFA building, 6th floor) / research lab 8 (BETA building, 3rd floor)
Preposto di Laboratorio
Responsabile dell'Attività di Didattica e Ricerca in Laboratorio (RDRL)

Activities and research skills
General information
Scientific sector (SSD)

CHIMICA GENERALE E INORGANICA [CHIM/03]
Settore Scientifico Disciplinare (SSD) affine

CHIMICA GENERALE E INORGANICA [CHIM/03]
Geographic areas in which the research experience mainly applies

Internazionale: Europa
Known languages

Italiano (scritto: madrelingua parlato: madrelingua)
Inglese (scritto: avanzato parlato: avanzato)
Tedesco (scritto: base parlato: base)

Participation in editorial boards of scientific journals/book series

Referee per le riviste delle case editrici American Chemical Society, Royal Society of Chemistry, Elsevier, Wiley, Taylor and Francis, DeGruyter/Versita, Bentham. Editore di Open Inorganic Chemistry Journal (Bentham) dal 2007 al 2010.
Participation as referees of national and international research projects

Referee per Royal Society Wolfson Fellowship, 2018.
Areas and research fields

Area: Chimica Fisica e Materiali Linea: Chimica Fisica dei materiali
Area: Chimica Fisica e Materiali Linea: Sintesi metallorganica
Area: Chimica Fisica e Materiali

Research skills
Sintesi di composti di coordinazione

Description:

Synthesis of coordination compounds

Keywords:

Inorganic chemistry, Computational chemistry, Organometallic chemistry

ATECO code:

[21.20.09] - fabbricazione di medicinali ed altri preparati farmaceutici
Sintesi di composti organometallici

Description:

Sinthesis of organometallic compounds

Keywords:

Inorganic chemistry, Computational chemistry, Organometallic chemistry

ATECO code:

[20.1] - fabbricazione di prodotti chimici di base, di fertilizzanti e composti azotati, di materie plastiche e gomma sintetica in forme primarie
Completed and pending researches
Caratterizzazione computazionale di composti di coordinazione e organometallici

SSD:

CHIM/03
Sintesi di composti di coordinazione e organometallici di elementi dei blocchi d ed f

SSD:

CHIM/03
Sintesi e caratterizzazione di complessi luminescenti

SSD:

CHIM/03
Funds
Aumento dell'efficienza delle celle solari al silicio mediante modifica dello spettro solare

Funding body:

MISE

Type:

Altri programmi ministeriali

Role in the project:

PT

Starting date:

Year: 2010 Length in months: 18

Other members of the research group:
Conversione Energetica attraverso nuovi derivati di lantanidi e metalli di transizione

Funding body:

Università Ca' Foscari

Type:

Fondo ricerche e scavi archeologici

Role in the project:

NS

Starting date:

Year: 2014 Length in months: 24
Inexpensive Complexes of Oleds

Funding body:

Università Ca' Foscari Venezia

Type:

Progetti di Ateneo

Role in the project:

LD

Starting date:

Year: 2019 Length in months: 24
Sviluppo di catalizzatori per polimerizzazione

Funding body:

MIUR

Type:

PRIN

Role in the project:

PT

Starting date:

Year: 2008 Length in months: 24