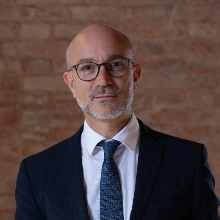 SENIGAGLIA Roberto
Position

Full Professor
Roles

Member of the Department of Economics' Committee
Substitute member of Disciplinary Committee
Department of Economics' Vice-Director

Telephone

041 234 7677
Fax

041 234 9176
Scientific sector (SSD)

DIRITTO PRIVATO [IUS/01]
Website

www.unive.it/persone/robseni (personal record)

Office

Department of Economics
Website: https://www.unive.it/dep.economics
Where: San Giobbe

Activities and research skills
General information
Scientific sector (SSD)

DIRITTO PRIVATO [IUS/01]
Settore Scientifico Disciplinare (SSD) affine

DIRITTO PRIVATO [IUS/01]
Geographic areas in which the research experience mainly applies

Nazionale
Known languages

inglese (scritto: intermedio parlato: intermedio)
francese (scritto: intermedio parlato: intermedio)

Participation in editorial boards of scientific journals/book series

Comitato di redazione della rivista "Dialoghi del diritto dell'avvocatura della giurisdizione", edita da CEDAM; Comitato editoriale della Casa Editrice "Marcianum press S.r.l.; comitato scientifico della rivista "Ricerche giuridiche" edita da edizioni Ca' Foscari; direzione scientifica della rivista Ephemerides Iuris Canonici, edita da Marcianum Press.
Participation as referees of national and international research projects

Fa parte dell'albo dei revisori per la valutazione dei programmi di ricerca ministeriale.
Areas and research fields

Area: Diritto Linea: Diritto Privato (IUS 01)

Research skills
Diritto contrattuale

Description:

Contract law

Keywords:

Juridical sciences, Private law, European law

ATECO code:

[64] - attività di servizi finanziari (escluse le assicurazioni e i fondi pensione)
Diritto privato europeo

Description:

European Law

Keywords:

Juridical sciences, Consumer law, European law
Diritto di famiglia

Description:

Family law

Keywords:

Juridical sciences, Social law, Private law
Diritto successorio

Description:

Inheritance law

Keywords:

Juridical sciences, Social law, Private law
L�interpretazione del diritto

Description:

Interpretation of law

Keywords:

Juridical sciences, Comparative law, Private law
Diritti umani

Description:

human rights law

Keywords:

Juridical sciences, Private law, Comparative law
Completed and pending researches
Autodeterminazione e autonomia del minore di età

SSD:

IUS/01
Contratti di soggiorno

SSD:

IUS/01
Diritto all'oblio

SSD:

IUS/01

Other members of the research group:
Disconoscimento della paternità

SSD:

IUS/01
Genitorialità tra biologia e volontà

SSD:

IUS/01
Il dovere di educazione dei figli nell'era digitale

SSD:

IUS/01
La dimensione patrimoniale dei dati personali

SSD:

IUS/01
La formazione del contratto

SSD:

IUS/01
La semantica giuridica della responsabilità genitoriale

SSD:

IUS/01

Other members of the research group:
Minore età e contratto

SSD:

IUS/02
Studi sulla vulnerabilità

SSD:

IUS/01