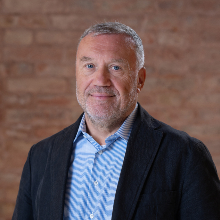 Office hours
Dipartimento di Economia - Department of Economics
Studio docente: stanza 132, San Giobbe. Il docente riceve da remoto via Google Meet il mercoledì dalle 09:00 alle 11:00, previa prenotazione da effettuare a mezzo mail contattando il docente. Office hours are held remotely via Google Meet on Wednesdays from 9 am to 11 am CET. Reservation via e-mail is required.
Per quanto riguarda proposte di tesi (triennali o magistrali), i miei interessi vertono soprattutto sui seguenti macro-temi: 1) Geografia del mare e delle aree costiere (usi economici e loro evoluzione; politiche nazionali e internazionali in tema di blue economy; piani e programmi di gestione della costa e del mare e sviluppo sostenibile), anche in prospettiva geopolitica (conflitti di sovranità e di gestione delle risorse). 2) Geografia urbana: sviluppo delle città e governance urbana-metropolitana; città e politiche per lo sviluppo sostenibile; green cities: politiche, inziative, narrative; 3) Evoluzione delle città portuali e delle relazioni città-porto. 4) Geografia e geopolitica dei trasporti, con particolare riguardo a porti e trasporti marittimi. 5) Evoluzione delle aree portuali-industriali (zone economiche speciali, zone logistiche, politiche ambientali-territoriali, economia circolare e transizione ecologica). 6) Cambiamento climatico, politiche di mitigazione, adattamento e resilienza, con particolare riguardo al ruolo delle città, delle reti di città e degli attori non statali. 7) Geografia e geopolitica delle regioni polari (Artico, Antartide): usi economici, governance internazionale, strategie politiche nazionali rispetto alle regioni polari.

Notices
RICEVIMENTO LUGLIO 2022
Published on 29/06/2022
Ricevimento luglio 2022:
giovedì 14, ore 9-11, solo online
martedì 19, ore 9-10.30, in presenza a Treviso e online
Per prenotarsi, inviare una mail al docente, indicando anche il motivo della richiesta di ricevimento
Il ricevimento riprenderà regolamente in settembre
CREDITO DI SOSTENIBILITA' STUDENTI CAMPUS TREVISO
Published on 22/06/2022
Il Prof. Soriani non è più il responsabile del credito di sostenibilità per gli studenti del Campus di Treviso.
La responsabile è ora la Prof.ssa Annalisa Colombino.
follow the feed