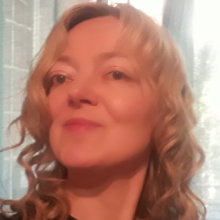 Francesca FORNARI
Position

Associate Professor
Telephone

041 234 9431
E-mail
Fax

041 234 9476
Scientific sector (SSD)

SLAVISTICA [L-LIN/21]
Website

www.unive.it/people/f.fornari (personal record)

Office
Office hours
Notices
"Why You Should Learn Polish?"
Published on 06/12/2023
SITI CONSIGLIATI PER STUDENTI I ANNO:
"Why You Should Learn Polish?"
"A Foreigners Guide to Poland"
"A Foreigners Guide to Polish Alfabet"
"A Foreigners Guide to Polish Literature"
"Polonia travel". Cosa vedere in Polonia: I siti UNESCO
https://www.poland.travel/en
Rapporto POLONIA - info mercati esteri:
Warsaw On Air
RICEVIMENTO: ISTRUZIONI STAGE/TIROCINI LLEAP
Published on 06/12/2023
ISTRUZIONI STAGE/TIROCINI LLEAP
In ottemperanza alle nuove disposizioni di Dipartimento, si avvertono gli studenti che anche per l'a.a. 2022/23 il ricevimento stage si svolgerà unicamente a distanza, tramite mail.
IMPORTANTE: I progetti formativi devono essere sottoposti al docente/referente almeno 10 giorni prima dell'inizio previsto per lo stage. Gli studenti non possono iniziare uno stage senza avere il progetto firmato dalla docente.
ANCORA PIU' IMPORTANTE: si avvisano gli studenti che tutto il materiale inviato in settimana verrà esaminato e trattato unicamente NEL POMERIGGIO DI GIOVEDì: si raccomanda perciò di non inoltrare lo stesso messaggio più volte, di calcolare bene i tempi della richiesta e attendere la risposta della docente. Li si raccomanda altresì di includere il loro nome nel titolo di tutti gli allegati inviati e di non aggiungere mai la formula "urgente" nell'oggetto delle e-mail.
Tutte le informazioni relative all'attività di Stage/tirocinio LLEAP si trovano a questo indirizzo:
https://www.unive.it/pag/41721/
Altre informazioni sugli stage con enti già convenzionati, e sulla procedura per avviare nuove convenzioni a questo indirizzo:
https://www.unive.it/pag/10356/
In inglese:
https://www.unive.it/pag/42360/
https://www.unive.it/pag/17134
https://www.unive.it/pag/17181/
N.B.: Nel procedimento di tirocinio/stage, Il docente referente stage ha come unico compito quello di avallare con la propria firma, in apertura e in chiusura, la congruenza del tirocinio attivato rispetto al percorso formativo del Corso di Laurea triennale.
Per tutte le altre informazioni inerenti modalità di attivazione e relativa prassi, offerta Italia ed Estero, tempistiche, scadenze e tempi amministrativi etc., lo studente tirocinante dovrà fare capo agli uffici amministrativi di Ca' Foscari ai seguenti indirizzi:
https://www.unive.it/data/strutture/111757;
https://www.unive.it/data/strutture/111758
1 - TIROCINIO/STAGE CURRICULARE
(svolto tramite convenzione stipulata da Ca' Foscari)
Gli studenti che intendano ottenere la firma per iniziare l'attività di tirocinio stage, dovranno inviare alla docente per mail una scannerizzazione IN FORMATO PDF del loro progetto formativo, già compilato in tutte le parti, che verrà restituito loro firmato, sempre per mail.
Lo stesso procedimento vale per la firma di chiusura per gli stage effettuati e conclusi: gli studenti sono autorizzati ad inviare per mail alla docente una scannerizzazione IN FORMATO PDF della copia completa del progetto formativo munita del registro delle attività e della chiusura stage da parte dell'ente ospitante debitamente compilate – la chiusura stage verrà firmata e restituita loro, sempre per mail.
Si invitano perciò gli studenti a provvedersi delle firme per tempo, e in ogni caso prima dell'interruzione estiva del ricevimento studenti e prima della eventuale partenza dello studente per l'Erasmus.
Importante: Nel compilare il progetto formativo, particolare attenzione dovrà essere riservata al campo "Obiettivi e modalità del tirocinio", che dovrà fare riferimento anche agli obiettivi formativi dichiarati dal corso di laurea LLEAP. Si ribadisce altresì che è assolutamente necessario ottenere le tre firme d'avvio sul progetto formativo prima dell'inizio dell'esperienza di tirocinio stage.
2 - RICONOSCIMENTI DI ATTIVITA' SOSTITUTIVE DI TIROCINIO/STAGE
(attività già svolte o da svolgere gestite in proprio, riconoscibili come stage)
Nel caso di attività congrue rispetto agli obiettivi del tirocinio/stage per il corso di laurea magistrale LLEAP, esiste la possibilità che, al termine del loro svolgimento, esse vengano riconosciute come attività sostitutive di tirocinio.
Gli studenti potranno richiedere per mail pareri circa la riconoscibilità come sostitutive di tirocinio di attività lavorative svolte in proprio e al di fuori delle procedure stage istituzionali dell'Ateneo – li si prega di dichiarare via mail il tipo di lavoro che hanno svolto o che dovranno svolgere, e se vi è previsto l'impiego delle competenze linguistiche maturate nel quadro del corso di studi.
Per essere riconosciuta come sostitutiva di tirocinio, l'attività deve avere una durata di almeno 150 ore, indipendentemente dal periodo di svolgimento.

In caso di risposta positiva, i richiedenti potranno fare domanda per la sostituzione del tirocinio via mail, e scaricare la modulistica necessaria ( www.unive.it/pag/31387/ ), che prevede:
1. il modulo scaricabile, debitamente compilato in tutte le sue parti (a mano, IN FORMATO PDF). [MODULO attività sostitutiva.pdf]
2. una dichiarazione in carta intestata della Ditta/Ente una dichiarazione a firma dell'ente di destinazione, che descriva il tipo di attività, la durata, le ore svolte.
NB: in entrambe le certificazioni dovrà essere fatta specifica menzione delle lingue praticate in corso di attività/servizio.
In ogni caso si raccomanda agli studenti di controllare sempre gli avvisi personali dei docenti.
LINGUA POLACCA 1 - ORARIO ESERCITAZIONI LINGUISTICHE DOTT.SSA GOŁATA
Published on 06/12/2023
LINGUA POLACCA 1 - ORARIO ESERCITAZIONI LINGUISTICHE DOTT.SSA GOŁATA:
lunedì 12,15 - aula 23 San Sebastiano
venerdì 14,00 - aula 1D San Basilio
Prossimo ricevimento: 3 dicembre 15,30-17,30
Published on 30/11/2023
Prossimo ricevimento:
3 dicembre 15,30-17,30
follow the feed