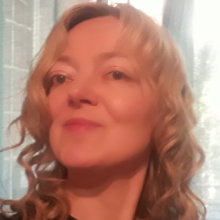 FORNARI Francesca
Position

Associate Professor
Telephone

041 234 9431
E-mail
Fax

041 234 9476
Scientific sector (SSD)

SLAVISTICA [L-LIN/21]
Website

www.unive.it/persone/f.fornari (personal record)

Office
Office hours
Orario di ricevimento I semestre a.a. 2022/23
mercoledì 14,00 - 16,00
Si prega di anticipare tramite email l'intenzione di presentarsi e l'argomento del colloquio.
In caso di necessità è possibile concordare un colloquio via Skype/Zoom.
Si invita a verificare sempre gli avvisi della docente.



Notices
"Why You Should Learn Polish?"
Published on 21/09/2022
SITI CONSIGLIATI PER STUDENTI I ANNO:
"Why You Should Learn Polish?"
"A Foreigners Guide to Poland"
"A Foreigners Guide to Polish Alfabet"
"A Foreigners Guide to Polish Literature"
"Polonia travel". Cosa vedere in Polonia: I siti UNESCO
https://www.poland.travel/en
Rapporto POLONIA - info mercati esteri:
Warsaw On Air
Studiare lingua e letteratura polacca: informazioni utili
Published on 31/08/2022
Vuoi conoscere la Polonia,
la sua lingua e la sua cultura?
Il Corso di laurea triennale in Lingue, Civiltà e Scienze del Linguaggio, e i corsi di laurea magistrale in Lingue
e Letterature europee, americane e postcoloniali eScienze del Linguaggio, presentano, nella loro ricchissima offerta di lingue straniere, anche lo studio della LINGUA POLACCA.
allegato 1 - Informazioni sull'insegnamento: "LINGUA POLACCA - DSLCC"
allegato 2 - Un po' di storia: "Lingua e letteratura polacca a Ca' Foscari"
follow the feed