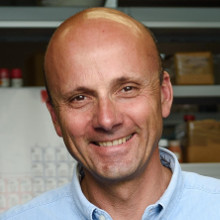 Activities and research skills
General information
Scientific sector (SSD)

CHIMICA ORGANICA [CHIM/06]
Settore Scientifico Disciplinare (SSD) affine

CHIMICA INDUSTRIALE [CHIM/04]
Geographic areas in which the research experience mainly applies

Internazionale: Europa, Oceania, America Settentrionale
Known languages

Inglese (scritto: madrelingua parlato: madrelingua)
Italiano (scritto: madrelingua parlato: madrelingua)
Tedesco (scritto: intermedio parlato: avanzato)

Participation in editorial boards of scientific journals/book series

1.Advisory Board della rivista "Green Chemistry" pubblicata dalla Royal Society of Chemistry (UK)
2. Editorial Advisory Board della rivista "ACS Sustainable Chemistry and Engineering" pubblicata dalla American Chemical Society (USA)
3. Editor del volume "Green Nanoscience" parte della collana di 12 volumi "Handbook of Green Chemistry" pubblicato dalla Wiley-VCH.
Participation as referees of national and international research projects

Referee di progetti dello European Research Council
Reviewer PRIN
Reviewer VQR
Areas and research fields

Area: Ambiente Linea: Chimica Analitica Ambientale
Area: Ambiente Linea: Chimica e Tossicologia Ambientale
Area: Ambiente Linea: Gestione e trattamento rifiuti/reflui
Area: Ambiente Linea: Green Chemistry
Area: Chimica Fisica e Materiali Linea: Chimica Fisica dei materiali
Area: Chimica Fisica e Materiali Linea: Fisica dei materiali
Area: Chimica Fisica e Materiali Linea: Green Chemistry
Area: Chimica Fisica e Materiali Linea: Sintesi Organica
Area: Chimica Fisica e Materiali

Research skills
Sintesi organiche eco-sostenibili attraverso l�impiego di solventi, reagenti , catalizzatori e materie prime ambientalmente compatibili

Description:

Green organich syntheses using environmentally friendly solvents, reagents, catalysts, and feedstocks.

Keywords:

Organic chemistry, Environmental chemistry, Industrial chemistry

ATECO code:

[20.14.09] - fabbricazione di altri prodotti chimici di base organici nca
Completed and pending researches
Caratterizzazione di microalghe adatte alla produzione di biocombustibili e molecole ad alto valore biologico

SSD:

BIO/19

Other members of the research group:
Carbonati organici come reagenti puliti

SSD:

CHIM/06
Chimica del glicerolo

SSD:

CHIM/06

Other members of the research group:
Derivati da biomasse per prodotti chimici ad alto valore aggiunto

SSD:

CHIM/06

Other members of the research group:
Formazione del legame C-C in CO2 supercritica

SSD:

CHIM/06

Other members of the research group:
Life on Titan

SSD:

CHIM/06

Other members of the research group:
Materie prime rinnovabili per nuovi prodotti chimici

SSD:

CHIM/06
Sintesi di liquidi ionici funzionali e loro applicazioni in green chemistry

SSD:

CHIM/06
Sintesi pulite: dialchilcarbonati, liquidi ionici funzionali e loro applicazioni

SSD:

CHIM/06

Other members of the research group:
Studio di materiali luminescenti nanostrutturati

SSD:

CHIM/02

Other members of the research group:

Alvise BENEDETTI
Loris BERTOLDO
Davide CRISTOFORI
Tiziano FINOTTO
Stefano POLIZZI
Pietro RIELLO

Funds
Added-value chemical products and energy from bio-waste: (Anaerobic Digestion and Microalgae) integrated bio-phys-chem processes for a circular economy approach

Funding body:

Ateneo Ca' Foscari

Type:

Progetti di Ateneo

Role in the project:

PT

Starting date:

Year: 2016 Length in months: 24

Other members of the research group:
Chiral Ionic Liquids for enantioselective reactions and molecular recognition

Funding body:

CNR/CSIR

Type:

Altri finanziamenti per progetti di ricerca

Role in the project:

NS

Starting date:

Year: 2009 Length in months:
Cooperlink 2011: Dottorato congiunto fra Università Ca' Foscari e la University of Sydney: integrazione fra esperimento e teoria per sintesi green di materiali auto assemblanti e nell'impiego di risorse rinnovabili

Funding body:

MIUR

Type:

Cooperlink

Role in the project:

LD

Starting date:

Year: 2011 Length in months: 16

Other members of the research group:
Endeavour Research Fellowship

Funding body:

Department of Education Science and Technology of the Australian Government

Type:

Altri finanziamenti per progetti di ricerca

Role in the project:

LD

Starting date:

Year: 2007 Length in months: 6
Estrazioni "green" di prodotti naturali da matrici arboree e di scarto agricolo e loro valorizzazione in prodotti per la cosmesi

Funding body:

FSE - Regione Veneto

Type:

POR FSE (2014-2020)

Role in the project:

LD

Starting date:

Year: 2017 Length in months: 12

Other members of the research group:
FISH-MeeTing: sustainable recovery and valorisation of fish wastes processing

Funding body:

MAECI

Type:

Altri programmi ministeriali

Role in the project:

LD

Starting date:

Year: 2018 Length in months: 24

Other members of the research group:
Formazione di legami C-C via metatesi delle olefine e addizione nucleofila catalizzate da sistemi eterogenei in reattori a flusso continuo con CO2 supercritica come solvente/carrier.

Funding body:

MIUR

Type:

PRIN

Role in the project:

LD

Starting date:

Year: 2010 Length in months: 24

Other members of the research group:
Green Chemistry per la valorizzazione della glicerina e dei suoi derivati: nuovi prodotti ecologici

Funding body:

Aussachem S.p.A.

Type:

Conto terzi - Prestazioni di ricerca

Role in the project:

LD

Starting date:

Year: 2013 Length in months: 12

Other members of the research group:
Green Procedures for the Selective Aqueous-phase Hydrogenation of Biomass-derived Levulinic Acid to gamma-Valerolactone. Innovative design for catalytic recycle and regeneration

Funding body:

MIUR

Type:

Altri finanziamenti per progetti di ricerca

Role in the project:

NS

Starting date:

Year: 2009 Length in months: 36

Other members of the research group:
Ipotesi formulative a ridotto impatto ambientale per la realizzazione di addotti tra diammine alifatiche e resine epossidiche

Funding body:

Pava Resine srl, PD

Type:

Conto terzi - Prestazioni di ricerca

Role in the project:

LD

Starting date:

Year: 2010 Length in months: 3

Other members of the research group:
Nuove Sintesi Chimiche a Ridotto Impatto Ambientale per la Preparazione di Monomeri per Materiali Polimerici

Funding body:

FSE - Regione Veneto

Type:

POR FSE (2007-2013)

Role in the project:

LD

Starting date:

Year: 2012 Length in months: 12

Other members of the research group:
Nuove tecniche per la purificazione di principi attivi di origine naturale.

Funding body:

FSE - Regione Veneto

Type:

POR FSE (2014-2020)

Role in the project:

LD

Starting date:

Year: 2016 Length in months: 12

Other members of the research group:
Progetto Green Oil

Funding body:

ATI

Type:

Altri finanziamenti per progetti di ricerca

Role in the project:

PT

Starting date:

Year: 2009 Length in months: 18

Other members of the research group:
Progetto per la formazione di "Esperto in Sintesi Organiche di principi Attivi e Chemicals per l'Industria Medicale impiegando Solventi Eco-compatibili"

Funding body:

Regione Veneto nell'ambito del Programma operativo FSE

Type:

Altri finanziamenti per progetti di ricerca

Role in the project:

PT

Starting date:

Year: 2009 Length in months: 36

Other members of the research group:
SINTESI ECOSOSTENIBILI DI INTERMEDI E MONOMERI

Funding body:

Galentis SrL

Type:

Altri finanziamenti di ricerca

Role in the project:

LD

Starting date:

Year: 2012 Length in months:

Other members of the research group:
Sintesi ed Applicazioni di Liquidi Ionici Fotoluminescenti

Funding body:

Cofinanziamento Dipartimento Scienze Molecolari & Nanosistemi

Type:

Altri finanziamenti di ricerca

Role in the project:

LD

Starting date:

Year: 2012 Length in months: 12

Other members of the research group:
Sistema per il trasporto di farmaci basato su nanoparticelle di carbonio luminescenti (CNP)

Funding body:

Ateneo Ca' Foscari

Type:

Progetti di Ateneo

Role in the project:

PT

Starting date:

Year: 2015 Length in months: 24

Other members of the research group:
Synthesis and Applications of Chiral and Lipoconjugated Ionic Liquid

Funding body:

CNR

Type:

Altri finanziamenti per progetti di ricerca

Role in the project:

PT

Starting date:

Year: 2009 Length in months: 24

Other members of the research group:
Valorizzazione di molecole di origine rinnovabile dalla biomassa, quali il glicerolo e i suoi derivati, attraverso la chimica verde

Funding body:

Regione Veneto

Type:

POR FSE (2007-2013)

Role in the project:

LD

Starting date:

Year: 2014 Length in months: 12
Valorizzazione di scarti del comparto confetturiero: estrazioni ecocompatibili con anidride carbonica supercritica per la formulazione di nuovi prodotti nutraceutici e cosmetici

Funding body:

FSE - Regione Veneto

Type:

POR FSE (2014-2020)

Role in the project:

LD

Starting date:

Year: 2018 Length in months: 12

Other members of the research group: