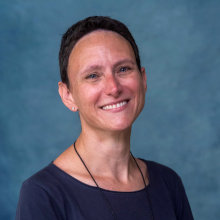 Francesca COCCETTA
Position

Associate Professor
Telephone

041 234 7846 / 041 234 6680
E-mail
Fax

041 234 7822
Scientific sector (SSD)

LINGUA E TRADUZIONE - LINGUA INGLESE [L-LIN/12]
Website

www.unive.it/persone/francesca.coccetta (personal record)

Office
Office hours
Notices
Indicazioni per i laureandi
Published on 27/09/2023
First published: August 2019
L'argomento oggetto della prova finale va concordato con il relatore.
Per scrivere una buona prova finale lo studente deve riservarsi almeno 3-4 mesi durante i quali dovrà svolgere un lavoro continuativo. Per questo motivo lo studente deve:
contattare la docente con largo anticipo (almeno due mesi prima) rispetto alla data di presentazione della domanda di laurea per prendere accordi sulla prova finale;
venire al ricevimento e consegnare parti dell'elaborato con regolarità.
Prima di caricare la domanda di laurea lo studente deve concordare il titolo della tesi con la docente.
Lo studente non deve sparire per lunghi periodi per poi ripresentarsi qualche settimana/giorno prima dalla consegna della prova finale.
Lo studente deve presentare la bozza della prova finale almeno 20 giorni prima del caricamento del PDF in Area Riservata per permettere alla docente una rilettura completa del lavoro e avere il tempo necessario per apportare eventuali modifiche/errori.
Lo studente non può effettuare l'upload della tesi senza l'approvazione della docente. Tantomeno, lo studente non può effettuare l'upload di un lavoro che non è stato mai visto o corretto dalla docente.
Nella stesura della tesi lo studente è caldamente invitato a seguire lo style sheet allegato.
Si ricorda che il plagio è un reato perseguibile a norma di legge.
LINGUA INGLESE SETTORIALE - [LM008P] (253550): Professor Presentation Online Meeting
Published on 13/09/2023
Students who will attend the course "English Language for Special Purposes" with Professor Francesca Coccetta and the course "English Language" with Professor Daniela Cesiri (Language Sciences MA Degree Programme) are informed that on Wednesday 27th September 2022 at 09:00, Professor Coccetta and Professor Cesiri will introduce themselves and the course to the students. The meeting will take place online at the following Zoom link:
https://unive.zoom.us/j/89110326920?pwd=bzJ0K21jMlRuc3B1cFF4aERLaVV4Zz09
ID riunione: 891 1032 6920
Passcode: Gxgb0Z
The meeting will not be recorded. However, as soon as the Offices open the Moodle page, Professor Coccetta and Professor Cesiri will upload some informative material and will notify students through a notice on this online board. The Moodle page of the course will be password protected, and students will receive the password during the online meeting.
follow the feed