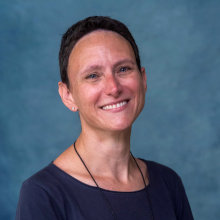 COCCETTA Francesca
Position

Associate Professor
Telephone

041 234 7846 / 041 234 6680
E-mail
Fax

041 234 7822
Scientific sector (SSD)

LINGUA E TRADUZIONE - LINGUA INGLESE [L-LIN/12]
Website

www.unive.it/persone/francesca.coccetta (personal record)

Office
Office hours
Notices
Indicazioni per i laureandi
Published on 09/03/2023
First published: August 2019
L'argomento oggetto della prova finale va concordato con il relatore.
Per scrivere una buona prova finale lo studente deve riservarsi almeno 3-4 mesi durante i quali dovrà svolgere un lavoro continuativo. Per questo motivo lo studente deve:
contattare la docente con largo anticipo (almeno due mesi prima) rispetto alla data di presentazione della domanda di laurea per prendere accordi sulla prova finale;
venire al ricevimento e consegnare parti dell'elaborato con regolarità.
Prima di caricare la domanda di laurea lo studente deve concordare il titolo della tesi con la docente.
Lo studente non deve sparire per lunghi periodi per poi ripresentarsi qualche settimana/giorno prima dalla consegna della prova finale.
Lo studente deve presentare la bozza della prova finale almeno 20 giorni prima del caricamento del PDF in Area Riservata per permettere alla docente una rilettura completa del lavoro e avere il tempo necessario per apportare eventuali modifiche/errori.
Lo studente non può effettuare l'upload della tesi senza l'approvazione della docente. Tantomeno, lo studente non può effettuare l'upload di un lavoro che non è stato mai visto o corretto dalla docente.
Nella stesura della tesi lo studente è caldamente invitato a seguire lo style sheet allegato.
Si ricorda che il plagio è un reato perseguibile a norma di legge.
Bibliografia essenziale per la tesi di traduzione
Published on 09/03/2023
First published: August 2019
Gli studenti che intendono svolgere una tesi di traduzione sono caldamente invitati a studiare i seguenti volumi per avere una panoramica sui Translation Studies e la traduzione.
Baker, Mona (2018): In Other Words: A Coursebook on Translation. Third Edition. London and New York: Routledge.
House, Juliane (2009). Translation. Oxford: Oxford University Press.
Morini, Massimiliano (2016). Tradurre l'inglese. Manuale pratico e teorico. Bologna: Il Mulino.
Munday, Jeremy (2016). Introducing Translation Studies. Theories and Applications. Fourth Edition. London and New York: Routledge.
Taylor, Christopher (1998). Language to Language. A Practical and Theoretical Guide for Italian/English Translators. Cambridge: Cambridge University Press.
Per una panoramica sulla traduzione specializzata, gli studenti possono studiare i seguenti volumi:
Byrne, Jody (2012). Scientific and Technical Translation Explained. Manchester: St. Jerome Publishing.
Olohan, Maeve (2016). Scientific and Technical Translation. London and New York: Routledge.
Scarpa, Federica (2008). La Traduzione Specializzata. Milano: Hoepli.
Per una panoramica sulla traduzione letteraria, gli studenti possono fare riferimento al seguente volume:
Rega, Lorenza (2001). La traduzione letteraria. Aspetti e problemi. Torino: UTET.
follow the feed