CUGLIANA Elisa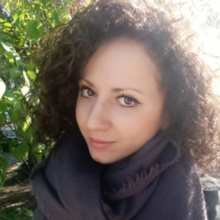 Elisa Cugliana graduated summa cum laude at Ca' Foscari University of Venice in 2016: for her MA thesis, she prepared a TEI-compliant edition of a still unedited reel-to-reel audio tape preserving a two-hour recording of one of the last native speakers of the Cimbrian variety of the Seven Communities (VI).

At present she is doing a joint PhD between Ca' Foscari University (supervision: Marina Buzzoni) and the Cologne Center for eHumanities at the University of Cologne (supervision: Patrick Sahle). Her dissertation consists in the digital scholarly edition of a medieval German translation of Marco Polo's Devisement dou Monde, which is preserved in five witnesses, none of which has ever been edited up to now. In her project, she explores the possibilities offered by the digital medium not only in terms of visualisation and use of scholarly editions, but also as far as the editorial methodology and workflow are concerned, for instance by transforming the traditional analogic continuum spanning between facsimile and interpretative transcription(s) into a supervised (and repeatable) automatic process.

She is also collaborating on the project for a new comprehensive edition of the whole textual tradition of Marco Polo's work, together with a team of philologists and developers. She has then worked extensively on lexical databases for endangered languages, collaborating on the realisation of an online dictionary of Cimbrian. Her main research areas are Germanic philology, digital editing and diachronic linguistics. She is also interested in digital mapping and in the medieval reception of spatiality.
Ultima modifica: 28/05/2019
Le informazioni riportate sono state caricate sul sito dell'Università Ca' Foscari Venezia direttamente dall'utente a cui si riferisce la pagina. La correttezza e veridicità delle informazioni pubblicate sono di esclusiva responsabilità del singolo utente.