VAIA Giovanni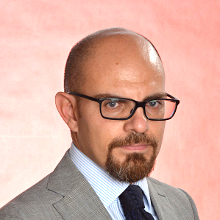 Letter to students
Pubblicato il 30/03/2020
Dear Students,
We are reaching out to you during the exam period so that you can be assured that we and all our
colleagues are thinking of you.
These are unprecedented times and we are going through an emergency that is extremely difficult for all of
us. However, we don't want to – and mustn't – just be passive onlookers waiting for everything to be over.
Each of us must find solutions to challenges that were unthinkable just a few days ago, naturally keeping to
the restrictions of movement and freedom that we are called to hold.
Covid-19 has forced us to re-think our ways of teaching in a very short period of time, and through painful
social distancing you have lost the regular contact with friends and colleagues that has always been an
important aspect of university life.
But we want you to know that we, you and your university are all here together!
Although slightly thrown by the initial confusion, we have stepped up to the challenge, changing the way
lessons are delivered and adapting their contents. And you have also had to adapt to a different way of
studying and experiment "different" kinds of exams.
Next week's exams have been urgently and partially rescheduled. These changes – which will allow
everyone to catch up all the exam sessions – may have created some uncertainty, but you should see them
as an opportunity both in your study path and for the university to demonstrate its ability to face this
emergency.
The staff and the whole university are doing their best to cope with the situation and adjust to a new
normality, despite this emergency that has quite literally changed our way of life. We hope that you can
appreciate the enormous organisational effort that is being made and therefore understand that we are
increasingly united by the challenges that we are all facing in this very tense period.
Not everything will go perfectly and there will inevitably be inconveniences and problems. However, we
have rarely seen such energy, passion, and commitment unite colleagues, technical and administrative
staff, students and partners.
Understandably, you will be worried about the exams you are about to sit. However, please take the time
and the satisfaction to realise that you are taking part in an enormous collective effort to beat this
emergency so that your careers, our lives, and our values are not crushed. We are all part of a community
that is able – with the help of everyone – to stumble and pick itself up again, and proudly move forward.
The best of luck for your exams and we hope you will remember this period (also) as a time of unique
human and professional growth.
The Directors of the Departments of the Economics Campus.
Monica Billio
Gaetano Zilio Grandi

segui il feed