Shadi is currently enrolled in the "Crossing the Mediterranean: towards Investment and Integration" Master's degree here at Ca' Foscari, a one of a kind course in a city like no other. This brilliant Iranian student was completely mesmerized by the rich history of Venice, "one of the most important waypoints of the routes for migration, trade and circulation between the East and the West". Today she tells us her plans for the future, which involve helping young people building a better world

What made you choose Italy and more specifically Ca' Foscari for your studies?
Ca' Foscari is one of the top universities for Humanities and Languages in Italy but it is also located in the beautiful Venice, probably one of the most unique cities of the world. I say that not just because of its wonderful canals and Gondolas, but because it has historically been one of the most strategic ports in the world.
I decided enroll in the MiM Double Master's degree, which is about Immigration and Inter-Mediterranean Mediation and is only offered by Ca' Foscari. So, being able to live in a city that was once one of the most important routes for migration, trade and circulation between the East and the West is a wonderful opportunity for me to really connect with many aspects of my studies.
While walking down every Calle or Rio, I keep thinking about the millions of other people who have set foot there and walked into a cozy little Campo to get an aperitivo over the centuries. And if you don't know what those words mean, no worries – all you need is a little google search or a few days in Venice!
What do you feel is the biggest difference between your home-country and Italy? What is your favorite thing in Venice?

I was surprised by a number of things of course, as I'm sure happens to all people who move abroad. The first thing that shocked me was the lack of the notion of urgency and emergency in Italian bureaucracy. For the first few weeks, I was constantly running from office to office until I really came to understand that whatever involves paperwork, such as finding accommodation, takes ages – and that is not just for foreigners!
The second thing that came to me as a surprise was the extensive regional culture in Italy which includes table manners, cuisine, dialects, customs, etc. There are local flags, dishes, drinks and practices that vary from region to region! I never thought there would be so many details to observe in Italy.
Do you have any favorite places in Venice?

Venice is a city you can easily fall in love with: the Grand Canal – which is really grand – Rialto Bridge, San Marco Square and so on. But if I really had to pick one place it would be Ponte Dei Sospiri (Bridge of the Sighs) which is close to San Marco and was designed by Antonio Contino.This is one of the very few enclosed bridges and it's made of white limestone. It connects the New Prison to the Doge's Palace and it was probably one of the last places prisoners could see the outside world from before they were taken to their cells. Across this very bridge, you can see a stunning view of the laguna, with flying seagulls and passing boats, and experience a beautiful feeling of freedom.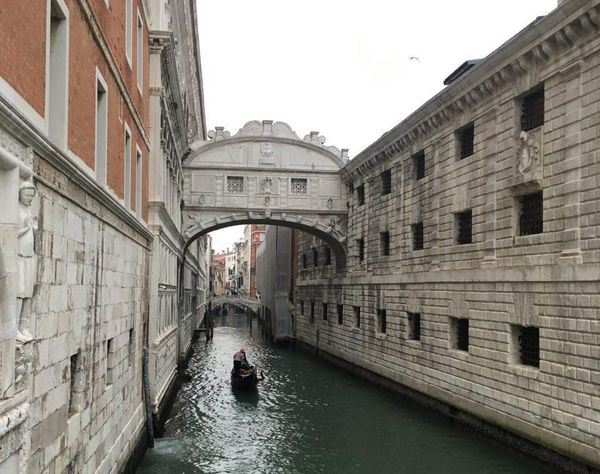 Can you tell us about the most memorable experience you've lived here so far? And have you learned any "Venetian" words ?

As an international student I have lived many memorable experiences, both good and less good during my stay here in Venice. But I would say the best one was probably just walking out of the Zattere CFZ library one afternoon, and having my breath taken away by the stunning sunset waiting for me outside. I just sat down and watched the sunset in a deeply peaceful state. That is why my favorite word is La Serenissima, which means the most peaceful. In hindsight, I started wondering if other locals or students in Venice do stop and enjoy the beauties of this city or if loses its magic after some time.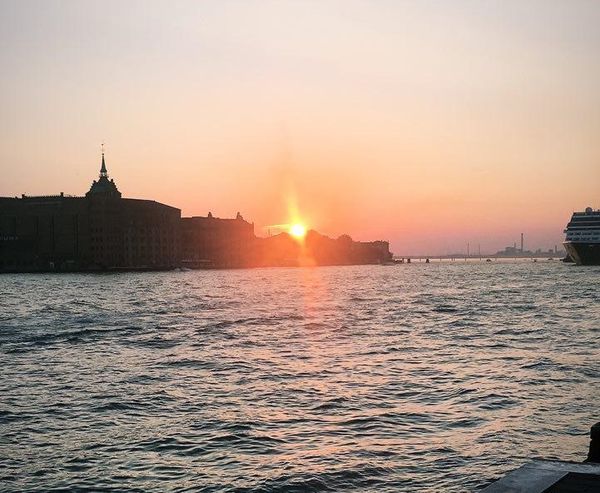 What advice would you give to other students who are considering moving abroad?
I could write a whole article on this! :D But to make it short and concise, I would say:
Pack the essentials, travel as light as possible because your life will be in suitcases for a while (easier said than done! I know!). Believe me, carrying luggage around Venice is not easy.
Researching your destination should be a religiously performed daily task – in all areas: legal procedures, insurance, entertainment, accommodation, gastronomy, cultural differences, etc.
Come with a basic grasp of the language (I didn't, and that was my mistake!)
Make a plan, but remember that it will probably be affected by more factors than you can even imagine – so stay as flexible as possible.
Learn how to manage your budget and always leave some emergency cash somewhere. Online you can find loads of templates for student budgets.
Start your move by reminding yourself to be kinder and more understanding to yourself. Big changes are coming!
Bring some of your own culture and history to your new destination. The intermingling of cultures is always brilliant and exciting. It will also be very interesting to locals.
Do not forget to enjoy the journey, make friends and travel as much as you can. Reflect on the things that happen to you every step of the way.
Do you have any plans for the future? What would be you dream career?

I'd prefer to live in the moment, but as an extra-EU student from Iran, I should always plan a few steps ahead due to limitations in mobility, visa issues and the lack of support from institutions and universities.
I also hope that my Master's degree can help me pave my way my way to intercultural mediation later in life, if I decide not to continue my academic pursuit for a PhD.
My dream career would be working with young people in any form, either in migratory contexts or in the North-South dynamics of the Mediterranean. Ideally, I would like to be involved in the field of youth peacebuilding either as facilitator and trainer (in which I have already been trained to some extent by the UN), or part of a project development team for youth projects. To me, young people are the future of the world. They account for more than half the world population as of 2012, just imagine what they could do if given a proper chance.