Sustainability report

The sustainability activities are summarized annually in the sustainability report, which tells to our stakeholders the actions taken and the results obtained by Ca' Foscari, illustrating the impacts on the economic, environmental and social level for the territory and the community.
Our aim is not merely to showcase the actions that have been undertaken with regard to our social responsibility but to strengthen our dialogue with our stakeholders and build a two-way relationship with the local community.
Since 2013 the University planning and report documents have been harmonized and standardized: all the results of the sustainability activities, research, training, technology transfer and organizational performance are now collected in the Relazione Unica di Ateneo (University General Report), which is published on Ca' Foscari website in July of each year, after the approval of the organs.
The Sustainability Report describes data and results shown in the Relazione Unica d'Ateneo and in the Financial Report as part of an integrated sustainability strategy, highlighting the positive impacts of each activity regarding the protection of the environment, the welfare of the community of Ca' Foscari and the sustainable development of the territory.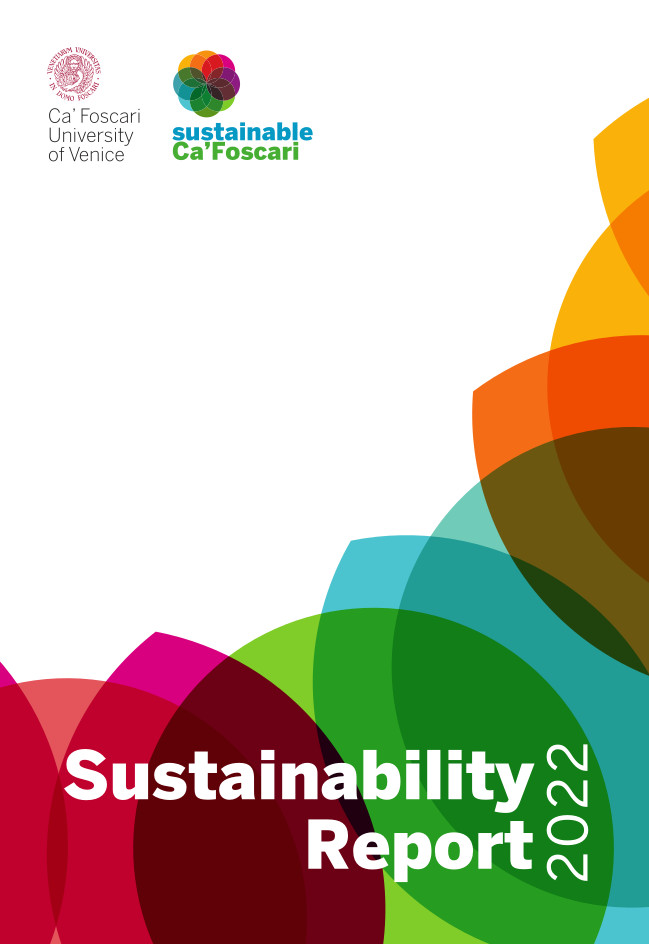 Sustainability Report 2022
The 2022 Sustainability Report presents the activities undertaken by the University in the field of sustainability. This year again, the Sustainability Report follows the GRI (Global Reporting Initiative) Standard and explains how the university's activities contribute to achieving the 17 goals of the 2030 Agenda for Sustainable Development. In line with previous editions, the 2022 Sustainability Report has been divided into eight macro areas, identifying for each area a set of key performance indicators (KPIs), introduced at the beginning of each chapter, whose trends are indicated for the last three years. These indicators are then shown in single final table for easier consultation. To give a general overview, at the beginning of the document there are some summary data sheets relating to 2022.
Sustainability report - year 2021


(September 2022) The Report presents the activities carried out in the 2021 that generated impacts on social, economic and environmental level. It is divided into eight thematic macroareas, with references to the GRI standard and to the implementation of the 2030 Agenda.

1.58 M

Sustainability report - year 2020


(September 2021) The Report presents the activities carried out in the 2020 that generated impacts on social, economic and environmental level. It is divided into eight thematic macroareas, with references to the GRI standard and to the implementation of the 2030 Agenda.

1.44 M

Sustainability report - year 2019


(November 2020) The Report presents the activities carried out in the 2019 that generated impacts on social, economic and environmental level. It is divided into eight thematic macroareas, with references to the GRI standard and to the implementation of the 2030 Agenda.

2.40 M

Sustainability report - year 2018


(October 2019) The report presents the activities carried out in 2018 that generated impacts on social, economic and environmental level. It is divided into eight thematic areas, with references to the GRI Standards and to the implementation of the 2030 Agenda

1.65 M

Sustainability report - year 2016


(July 2017) The report presents the activities realized in 2016, based on a sustainability integrated perspective. It is divided in eight thematic macro areas, each with a set of key performance indicator (KPI), and with reference to the University General Report and GRI4 indicators.

1.11 M

Sustainability report - year 2015


(September 2016) The report presents the activities realized in 2015, based on a sustainability integrated perspective. It is divided in eight thematic macro areas, each with a set of key performance indicator (KPI), and with reference to the University General Report and GRI4 indicators.

1.90 M

Sustainability report - year 2014


(November 2015) Activities realized in 2014, based on a sustainability integrated perspective are presented. The report is divided in eight thematic macro areas, with references to the University General Report and the GRI4 indicators.

1.29 M

Four years of Sustainable Ca' Foscari


(June 2014) Results, projects and lessons learned in an evolutionary perspective are presented, starting from 2010, when Sustainable Ca' Foscari programme started, until 2013. The detail information are included in the Relazione Unica 2013, that for the first time integrates in the same document organisational, educational, research and sustainable reasults.

12.70 M

Sustainability report - year 2012


(October 2013) Published in three version: full, short and web version, thanks to the cooperation of the Cartesiani association. This version allows you to browse the different categories: students, staff, company, territory.

6.87 M

Sustainability report - year 2011


(July 2012) edit in two versions - full and short - for the first time the short version was published in english as well, simultanesly with the opening of the Sustainable Ca' Foscari website.

755 K
Last update: 01/12/2023