Teaching activities
Ca' Foscari and the Coronavirus emergency
Resumption of teaching activities in September
As of next September, Ca' Foscari will resume in-person teaching activities. Lectures and workshops will take place in our classrooms, welcoming as many people as possible.
Until 31 December, those who are not able to access the classroom can still follow the lesson via live streaming. Some specific and certified categories of students are entitled to dedicated support services.
In addition to wearing a mask, access to classrooms and libraries requires a valid COVID-19 green pass certificate.
Concerning vaccinations, ULSS 3 will dedicate four days to students attending Venetian universities: 30 August, 6, 7 and 13 September. All information is available on the ULSS 3 website[ITA].
Update: increase of classroom capacity to 75%
Starting from Monday, 20 September, the capacity of our classrooms will be increased to 75% of the total seats. Booking a seat is still mandatory, but it will also be possible to cancel your booking up until the beginning of the lessons, thus freeing your spot for other students.
For contacting tracing purposes, we ask you to confirm your presence for each of the booked lessons, using the app or the booking page unive Agenda Web
---
Autumn exams session
The autumn exam session will be held between 23 August and 11 September (for the linguistic area, 23 August – 4 September). This exam session will be carried out in person, unless the national government or the regional government introduce further restrictions in the coming months.
Exceptions may be made for specific and certified categories of students, including international students, who will be offered additional support services.
From 1 September, you will need a valid Covid-19 Green Pass certificate to access the autumn exam session.
Professors and teaching staff will provide detailed information regarding the way in which exams will be carried out. This information can be found on each teacher's personal webpage and on Moodle.
---
Digital teaching tools and services
The following information regarding the teaching support tools for the 2021/2022 academic year from 1 September to 31 December 2021 is frequently updated. Check back regularly to stay in the loop.
Reserving places/services
Access to classrooms is regulated via online booking system, through the MyUnive app available in the Android and Apple [ITA] stores.
In "Prenota il tuo posto a lezione" (Book your place in class), you can book your place in the classroom from one week before the chosen lesson. Last minute bookings are also available and can be made from 16 hours before the start of the lesson.
Bookings will generate an access card with a QR CODE, which will also be sent by e-mail, to be shown at the entrance of the building, where thermal scanners and/or camera scanners will be used to measure students' temperatures and face masks will be provided to those who don't have one.
Some specific and certified categories of students are entitled to dedicated services for the entire duration of their studies
---
Library services for Ca' Foscari members can be booked through through EasyPlanning.
Please refer to BALI, BAS, BAUM, BEC and CFZ or to SBA - University Library System.
---
Digital teaching tools
---
Moodle is the e-learning platform used to access the resources, activities and events of each course. In fact, each course has a corresponding Moodle area, which can be used for remote activities and, during lessons in person, as a support tool for group work, individual exercises, tests and exams.
Access to Moodle [ITA] requires your unive login credentials. First access creates a user account, used to participate in the activities, receive the notices published on Moodle by the teachers and access the Zoom lesson calendar.
Some courses are protected by a registration key, created and sent to students by the teacher.
---
Zoom is the video conferencing platform linked to the Moodle teaching areas; it allows all participants to remotely attend class activities, group works, discussions and presentations. It can be used as a video conferencing platform for remote courses or blended ones as well (both online and in presence).
The user profile and the video conferencing settings can be managed by clicking on this link https://unive.zoom.us/signin [ITA] (unive credentials are needed for the access). For new users, the Zoom account is automatically created when the participant joins the video conference, by using the Zoom calendar related to a specific Moodle course.
To attend a video conference, the user should download and install the Zoom desktop app and/or the mobile app. Once downloaded, the Zoom installer starts automatically upon the first access; however, the user can also decide to install the app in advance to create personal events and run technical tests.
In case of problems of access to University meetings or, more specifically, online courses, please refer to these guidelines. To actively attend the meetings, the use of a microphone and camera is required.
---
Padlet is the environment for the production of individual or collective multimedia bulletin boards, used for personal projects or connected to the Moodle area of the courses. Padlet creates and collects videos, records screens, processes timelines and concept maps quickly and intuitively.
Padlet creates a user account automatically for anyone who accesses an activity on Padlet, made available in the Moodle area of each course. Access to Padlet requires your unive login credentials.
Permissions to access and edit the content vary on each Padlet board and are set by its creator. You can manage your user profile and personal Padlet projects at https://unive.padlet.org/auth/login [ITA], where you can create an account independently using the Log in with Google option and entering your unive email credentials.
Accessing your account or Padlet boards via the app on mobile devices requires you to switch to the unive login screen, using the link Backpack/Briefcase user? Login here and, on the next page, enter the domain unive.padlet.org before entering your credentials.
There is no need to install any software for PCs or mobile devices to take part in basic activities. However, advanced functions, such as video message recording and screen recording, may require you to install extensions in your browser.
Some browsers are not compatible with Padlet's advanced functions. We therefore recommend you install the app on mobile devices and use Google Chrome on PCs.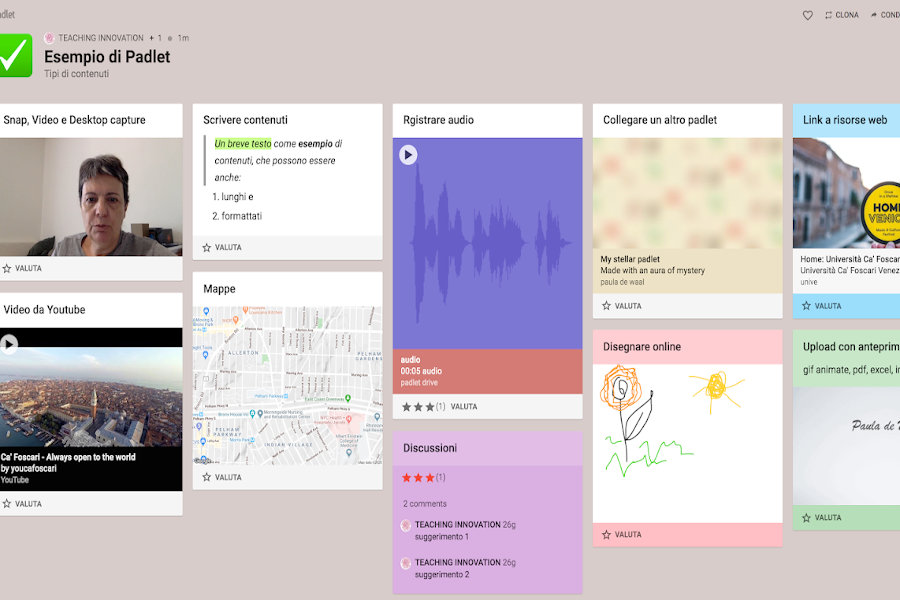 ---
Kahoot is a virtual environment for guided independent study and participation in learning assessment quizzes. Some teachers use Kahoot during lessons held in person and online.
Normally, participation in activities prepared by teachers on Kahoot does not require you to create a specific account. To start, just enter the game pin provided by the teacher on the website https://kahoot.it or, on mobile devices, the app available to download at https://kahoot.com/home/mobile-app.
---
There are various Google services offered free of charge to students thanks to the agreement with the University, including in particular:
Gmail, accessible from http://mail.stud.unive.it (after logging in, you can find the icon to access all the other Google apps in the top right of the window)
Meet for managing video conferences and chats
Docs, Forms, Sheets and Slides to create documents, spreadsheets and presentations, working in real time
Drive to store and share documents
Calendar to manage private and shared calendars
For more information, see the page Student e-mail and authentication system.
---
Students can sign up to use Office 365 Education for free, which includes Word, Excel, PowerPoint, One Note and other applications from Microsoft. Applications can also be used online and collaboratively.
To activate your account, follow the instructions on the page Microsoft Office 365 [ITA] in the students area.
Last update: 12/10/2021