Digital learning tools
Reserving places/services
Digital teaching tools
Reserving places/services
The MyUnive app is available in the Android and Apple [ITA] stores.
In the Agenda section you can will find lectures and exam timesheets for your programme.
The Biblioteche section allows you to book your seat in libraries and study rooms.
Contacts: segnalazioni.did@unive.it
Library services and study rooms for Ca' Foscari members can be booked through through EasyPlanning.
Please refer to BALI, BAS, BAUM, BEC and CFZ or to SBA - University Library System.
Digital teaching tools
There are various Google services offered free of charge to students thanks to the agreement with the University, including in particular:
Gmail, accessible from http://mail.stud.unive.it (after logging in, you can find the icon to access all the other Google apps in the top right of the window)
Meet for managing video conferences and chats
Docs, Forms, Sheets and Slides to create documents, spreadsheets and presentations, working in real time
Drive to store and share documents
Calendar to manage private and shared calendars
For more information, see the page Student e-mail and authentication system.
Moodle is the e-learning platform used to access the resources, activities and events of each course. In fact, each course has a corresponding Moodle area, which can be used for remote activities and, during lessons in person, as a support tool for group work, individual exercises, tests and exams.
Access to Moodle [ITA] requires your unive login credentials. First access creates a user account, used to participate in the activities, receive the notices published on Moodle by the teachers and access the Zoom lesson calendar.
Some courses are protected by a registration key, created and sent to students by the teacher.
Students can sign up to use Office 365 Education for free, which includes Word, Excel, PowerPoint, One Note and other applications from Microsoft. Applications can also be used online and collaboratively.
To activate your account, follow the instructions on the page Microsoft Office 365 [ITA] in the students area.
Overleaf is an online LaTeX editor that allows you to edit texts, articles, reports and other research outputs. It also allows you to track changes in real time and to share a text with an unlimited number of collaborators while saving a complete document history.
Check out the short tutorial [ITA] for Ca' Foscari users, and learn how to create a IEEE account which is necessary to access and use Overleaf.
For information and support please contact formazionedocenti@unive.it.
Padlet is the environment for the production of individual or collective multimedia bulletin boards, used for personal projects or connected to the Moodle area of the courses. Padlet creates and collects videos, records screens, processes timelines and concept maps quickly and intuitively.
Padlet creates a user account automatically for anyone who accesses an activity on Padlet, made available in the Moodle area of each course. Access to Padlet requires your unive login credentials.
Permissions to access and edit the content vary on each Padlet board and are set by its creator. You can manage your user profile and personal Padlet projects at https://unive.padlet.org/auth/login [ITA], where you can create an account independently using the Log in with Google option and entering your unive email credentials.
Accessing your account or Padlet boards via the app on mobile devices requires you to switch to the unive login screen, using the link Backpack/Briefcase user? Login here and, on the next page, enter the domain unive.padlet.org before entering your credentials.
There is no need to install any software for PCs or mobile devices to take part in basic activities. However, advanced functions, such as video message recording and screen recording, may require you to install extensions in your browser.
Some browsers are not compatible with Padlet's advanced functions. We therefore recommend you install the app on mobile devices and use Google Chrome on PCs.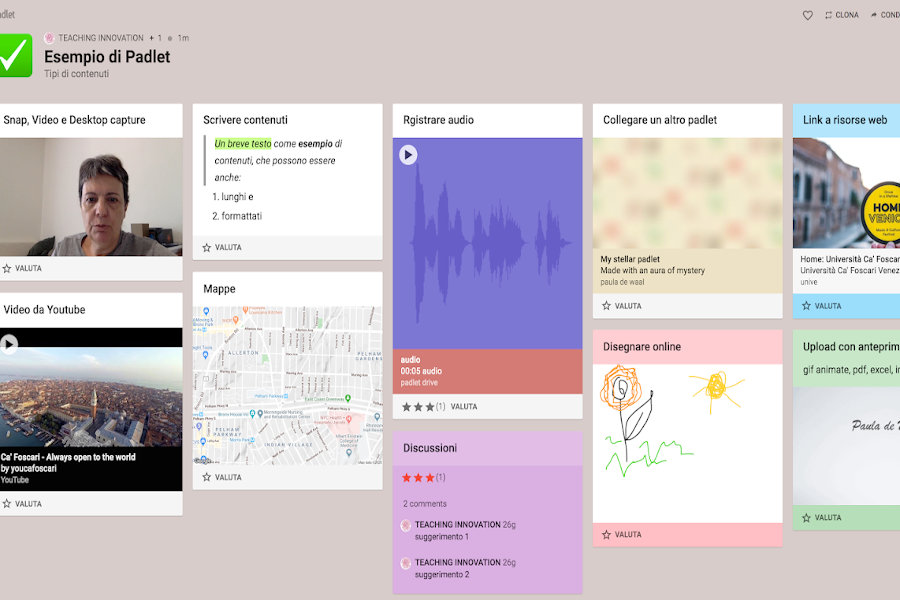 SensusAccess is an automatic document conversion service that allows you to convert your reading material into alternative formats. It allows you to convert inaccessible or difficult-to-read documents into more accessible formats. With SensusAccess, you can convert your reading material, slides and lecture notes into formats more suitable for your needs, such as:
MP3 files
E-books
Digital books in Braille
Structured audio books in DAISY format
You can also use SensusAccess to convert scanned PDF documents, text images captured with your smartphone and PowerPoint presentations into formats that are more useful, or easier for you to use. SensusAccess is a great service if you have difficulties with printed text, if you want to experiment with different learning styles, if you need assistance when reading a text in a foreign language, or if you simply want to make your reading available on the go.
To get the most out of the service, a complete e-learning course and a list of FAQ are available free of charge.
How to use the online form
Upload your document to SensusAccess
Select the format you would like your document converted to
Enter your university email address (matriculationnumber@unive.it)
Once your document is ready (has been converted), you will receive an e-mail.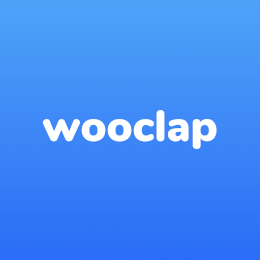 Wooclap - Interactive lectures and presentations
Wooclap is a platform for student engagement, i.e. it helps you keep your students involved during lectures, classes and online presentations. It facilitates audience interaction, capturing attention and offering teachers immediate feedback on students' participation, for maximum engagement.
Participation in activities prepared by teachers on Wooclap does not usually require the creation of specific accounts. To get started, simply connect with your device to https://app.wooclap.com/ using the code provided by the teacher.
Zoom is the video conferencing platform linked to the Moodle teaching areas; it allows all participants to remotely attend class activities, group works, discussions and presentations. It can be used as a video conferencing platform for remote courses or blended ones as well (both online and in presence).
The user profile and the video conferencing settings can be managed by clicking on this link https://unive.zoom.us/signin [ITA] (unive credentials are needed for the access). For new users, the Zoom account is automatically created when the participant joins the video conference, by using the Zoom calendar related to a specific Moodle course.
To attend a video conference, the user should download and install the Zoom desktop app and/or the mobile app. Once downloaded, the Zoom installer starts automatically upon the first access; however, the user can also decide to install the app in advance to create personal events and run technical tests.
In case of problems of access to University meetings or, more specifically, online courses, please refer to these guidelines. To actively attend the meetings, the use of a microphone and camera is required.
Last update: 22/11/2023