PANFILO Silvia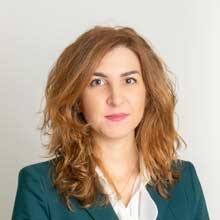 Silvia Panfilo is currently a post-doc and lecturer at Ca' Foscari University and Fondazione UniverMantova for the class of Accounting and Business Administration-2, Advanced International Accounting and Business Administration, respectively.
She has been visiting professor in Accounting at American University (Washington DC, USA) and at Krakow Economics University (Krakow, PL).
She was awarded at the AIDEA annual conference Emerging Scholar Colloquium 2017 for the Best Paper Award.
She granted her Ph.D. in Management at Ca' Foscari University with a dissertation entitled: "The role of accounting in governing corporate risks:Three essays". During the Ph.D. program she spent a semester in US as visiting researcher at North Carolina State University collaborating with the Accounting Department - ERM Initiative directed by prof. Mark Beasley, Bruce Branson and Don Pagach.
She obtained her bachelor degree in Business Administration (110/110 with honor) and her master degree in Business Administration and Corporate Law (110/110 with honor) at University of Verona. She has also a Master in Management Sciences at Ca' Foscari University.
She's member of many national and international academic association (e.g. AIDEA, SIDREA, American Accounting Association, European Accounting Association, European Risk Research Network) and she participates to their national and international annual conferences.
Research interests: Enterprise Risk Management, Sustainability, Corporate Governance, Integrated Reporting, Risk disclosure, Accounting History.
Ultima modifica: 10/08/2020
Le informazioni riportate sono state caricate sul sito dell'Università Ca' Foscari Venezia direttamente dall'utente a cui si riferisce la pagina. La correttezza e veridicità delle informazioni pubblicate sono di esclusiva responsabilità del singolo utente.