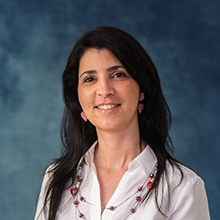 Maria Elisa FINA
Position

Researcher
Telephone

041 234 6680
E-mail
Scientific sector (SSD)

LINGUA E TRADUZIONE - LINGUA INGLESE [L-LIN/12]
Website

www.unive.it/people/mariaelisa.fina (personal record)

Office
Office
Office hours
In line with the University's guidelines, the office hours will take place in presence.
Next dates:
In Venice (Palazzo Cosulich, 2nd floor, room Pcos 206):
Please book here
- Thursday 7th Dec h 10:30-12:30
At the Treviso Campus (Palazzo S. Paolo, first floor, office D):
Please book here
Wednesday 6th Dec h 14:00-15:00
Please be aware that there might be last-minute changes due to academic duties. Students are highly recommended to check this notice regularly.

Notices
Tesi di laurea - modalità di richiesta tesi
Published on 17/11/2023
Gli studenti interessati a svolgere la tesi di laurea sotto la mia supervisione sono invitati a prenotare un colloquio negli orari di ricevimento della docente. Nel caso non fosse possibile presentarsi al ricevimento negli orari indicati, è possibile inviare una email alla docente per concordare un colloquio.
La docente accetta tesi sui seguenti argomenti:
Laurea triennale:
- traduzione EN>IT (solo per gli studenti che hanno frequentato il mio corso di Lingua Inglese 3)
- analisi linguistica, anche contrastiva italiano vs inglese
- altre da concordare
Laurea magistrale:
- sottotitolazione EN>IT e IT>EN
- traduzione intersemiotica (per studenti fino all'a.a. 2021-22)
- traduzione di testi scritti
- ricerca sulla traduzione (analisi di traduzioni esistenti e/o contronto tra traduzioni esistenti e traduzone propria)
- altre da concordare
Per gli studenti di magistrale:
LA CORREZIONE DEI CAPITOLI DEVE NECESSARIAMENTE SVOLGERSI IN UN ARCO TEMPORALE NON INFERIORE AI SEI MESI. QUESTO ARCO TEMPORALE DEVE ESSERE CONTEGGIATO PARTENDO DAL MESE PRECEDENTE A QUELLO IN CUI E' PREVISTA LA FINESTRA DI UPOLOAD. LA NON OSSERVANZA DI QUESTA TEMPISTICA COMPORTERA' LA NON AMMISSIONE ALLA SEDUTA DI LAUREA, SENZA ECCEZIONE ALCUNA.
Tutti i/le laureandi/laureandi devono obbligatoriamente attenersi a TUTTE le linee guida e al template pre-formattato disponibili in questa cartella. La non osservanza delle linee guida determinerà la sottrazione di punti in sede di valutazione della tesi.
TECNOLOGIE PER LA TRADUZIONE: STRUMENTI E METODI (INGLESE) - [LT5300] (253612): Iscrizione al corso Moodle
Published on 17/11/2023
Tutt* gli student* sono invitat* del 3° anno di MLC (Treviso) sono invitat* a iscriversi a questo corso Moodle.
TRADUZIONE AUDIOVISIVA E AUDIODESCRIZIONE INGLESE - [LM7480] TREVISO (216468): Iscrizione al corso Moodle
Published on 17/11/2023
Tutt* gli/le student* del secondo anno di TI curriculum inglese-spagnolo e/o inglese-LIS sono invitati a iscriversi a questo corso Moodle e a visionare il materiale in esso già caricato.
Si avvisano gli/le student* che le lezioni si terranno in aula 3 anzichè in aula 12.
follow the feed