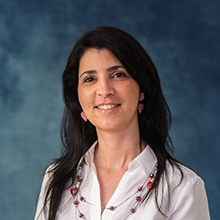 FINA Maria Elisa
Position

Researcher
Telephone

041 234 6680
E-mail
Scientific sector (SSD)

LINGUA E TRADUZIONE - LINGUA INGLESE [L-LIN/12]
Website

www.unive.it/persone/mariaelisa.fina (personal record)

Office
Office
Office hours
UPDATES!
In compliance with the guidelines, office hours will be in presence, as follows:
Venice: Tuesday 4th April 10:30-12:30. Please book here
Treviso Campus: see office hours in Venice or email me to schedule a meeting (mariaelisa.fina@unive.it)
If you are unable to come on these days please email me (mariaelisa.fina@unive.it). Online office hours can be held only for serious reasons that prevent you from coming to university.
Please be aware that there might be last-minute changes due to academic duties. Students are highly recommended to check this notice regularly.

Notices
Gruppo chiuso Facebook
Published on 30/03/2023
Si avvisano gli studenti attuali e futuri dei miei insegnamenti attivi presso i CCdLL ITES (Traduzione), LICSAAM (Lingua Inglese partizione A-E) e LCSL (Lingua Inglese 3) che é attivo un gruppo chiuso su Facebook allo scopo di creare un rapporto docente-studenti in un ambiente più informale. Nel gruppo saranno pubblicate regolarmente informazioni utili su didattica, esami, ricevimento, etc., ma anche spunti di riflessione e discussione su argomenti del corso o argomenti affini a quelli studiati. Il gruppo è da intendersi come integrativo (e NON sostitutivo) dei canali istituzionali (cioè la pagina docente unive, Moodle, le comunicazioni mediante posta elettronica istituzionale etc.)
Si prega cortesemente di NON inviare richieste di amicizia al profilo Facebook personale, in quanto si tratta di uno spazio privato che ritengo debba rimanere tale.
Il link al gruppo è il seguente: https://www.facebook.com/groups/2635105966591249/
Tesi di laurea - modalità di richiesta tesi
Published on 30/03/2023
Gli studenti interessati a svolgere la tesi di laurea sotto la mia supervisione sono invitati a prenotare un colloquio negli orari di ricevimento della docente. Nel caso non fosse possibile presentarsi al ricevimento negli orari indicati, è possibile inviare una email alla docente per concordare un colloquio.
La docente accetta tesi sui seguenti argomenti:
Laurea triennale:
- traduzione EN>IT (solo per gli studenti che hanno frequentato il mio corso di Lingua Inglese 3)
- analisi linguistica, anche contrastiva italiano vs inglese
- altre da concordare
Laurea magistrale (ITES):
- sottotitolazione EN>IT e IT>EN
- traduzione intersemiotica (per studenti fino all'a.a. 2021-22)
- traduzione di testi scritti
- ricerca sulla traduzione (analisi di traduzioni esistenti e/o contronto tra traduzioni esistenti e traduzone propria)
- altre da concordare
Per gli studenti di magistrale:
LA CORREZIONE DEI CAPITOLI DEVE NECESSARIAMENTE SVOLGERSI IN UN ARCO TEMPORALE NON INFERIORE AI SEI MESI. QUESTO ARCO TEMPORALE DEVE ESSERE CONTEGGIATO PARTENDO DAL MESE PRECEDENTE A QUELLO IN CUI E' PREVISTA LA FINESTRA DI UPOLOAD. LA NON OSSERVANZA DI QUESTA TEMPISTICA COMPORTERA' LA NON AMMISSIONE ALLA SEDUTA DI LAUREA, SENZA ECCEZIONE ALCUNA.
Tutti i/le laureandi/laureandi devono obbligatoriamente attenersi a TUTTE le linee guida e al template pre-formattato disponibili in questa cartella. La non osservanza delle linee guida determinerà la sottrazione di punti in sede di valutazione della tesi.
LINGUA INGLESE 3 - Classe 3 [LT008P] (205316): Corso Moodle modulo docente e spazio Moodle Portfolio
Published on 30/03/2023
Gi studenti del corso di Lingua Inglese 3 classe 3 (curriculum letterario) sono invitati a iscriversi al più presto ai seguenti spazi Moodle:
- spazio Moodle Portfolio dedicato unicamente allo svolgimento dei task previsti dal Portfolio
- corso Moodle modulo docente (di prossimo avvio nel secondo semestre): tutto il materiale necessario per la preparazione dell'esame sarà caricato qui.
Il corso avrà inizio mercoledì 8 febbraio ore 12:15-13:45 in aula 3 Rio Nuovo.
follow the feed