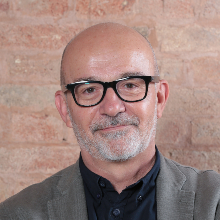 CORO' Giancarlo
Position

Full Professor
Roles

Delegated to International Cooperation and Development Policies

Telephone

041 234 6676 / 041 234 9189
E-mail
Fax

041 234 9176
Scientific sector (SSD)

ECONOMIA APPLICATA [SECS-P/06]
Website

www.unive.it/persone/corog (personal record)

Office

Department of Economics
Website: https://www.unive.it/dep.economics
Where: San Giobbe

Office hours
Dipartimento di Economia - Department of Economics
3° periodo a.a. 2020-21 - 3rd term 2020-21 a.y.
Il docente riceve da remoto il giovedì alle ore 11:00. Gli studenti sono invitati a consultare la sezione 'Avvisi' del docente per maggiori informazioni o variazioni. Il link a cui collegarsi per la videochiamata è meet.google.com/bsy-wjvo-xex.
Office hours are held remotely on Thursdays at 11 am CET. Students are advised to consult prof. Corò's 'Notices' section for more information or updates. Link to the GMeet: meet.google.com/bsy-wjvo-xex.

follow the feed