RIZZI Daniela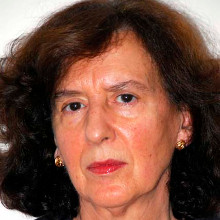 Activities and research skills
General information
Scientific sector (SSD)
SLAVISTICA [L-LIN/21]
Geographic areas in which the research experience mainly applies
Internazionale: Russia e aree caucasiche
Known languages
russo (scritto: avanzato parlato: avanzato)
inglese (scritto: intermedio parlato: intermedio)
francese (scritto: base parlato: base)

Participation in editorial boards of scientific journals/book series
Condirettore (insieme a Giorgio Ziffer) della rivista "Russica Romana"
Participation as referees of national and international research projects
Membro del GEV dell'area 10 per VQR 2004-2010 (nomina ANVUR).
Areas and research fields
Area: Archeologia ed arti Linea: Arte contemporanea
Area: Beni culturali Linea: Valorizzazione di beni culturali
Area: Letteratura Linea: Letterature comparate
Area: Lingue e letterature europee Linea: russa

Research skills
relazioni italo-russe
| | |
| --- | --- |
| Keywords | Russian literature, Comparative literature, Russian studies |
| ATECO code | [99.00] - organizzazioni ed organismi extraterritoriali |
edizioni di testi in lingua russa
| | |
| --- | --- |
| Keywords | Russian language |
traduzione letteraria russo-italiano
Completed and pending researches
"Il Piacere del Male" nella letteratura russa dell'800 (Dostoevskij)
Archivi russi in Italia (prima metà del Novecento): mappa dei fondi, dizionario on-line dell'emigrazione, edizione di materiali inediti".
Emigrazione russa in Europa
La Bibbia nella letteratura russa
Prosa russa del primo Novecento
Rapporti tra cultura italiana e russa
Funds
DATA BASE ONLINE E MUSEO VIRTUALE DELL'ARTE RUSSA IN ITALIA (OPERE DEL XX SECOLO)
| | |
| --- | --- |
| Funding body | Università Ca Foscari |
| Type | Fondo ricerche e scavi archeologici |
| Role in the project | LD |
| Starting date | Year: 2013 Length in months: 12 |
Il piacere del male. Le rappresentazioni letterarie di un'antinomia morale.
Pseudonymen-Lexikon der russischen Emigration in Europa (1917–1940)
| | |
| --- | --- |
| Funding body | Deutsche Forschungsgemeinschaft (German Research Foundation) |
| Type | Altri finanziamenti per progetti di ricerca |
| Role in the project | PT |
| Starting date | Year: 2012 Length in months: 24 |
Russi in Italia nel Novecento: indagini archivistiche e bibliografiche (Venezia, Roma e Sanremo), implementazione del "Dizionario on line dell'emigrazione russa", schedatura delle presenze russe a Venezia e dei loro rapporti con il mondo della cultura ita
Funding body
MIUR
Type
PRIN
Role in the project
PT
Sito di progetto
www.russinitalia.it
Starting date
Year: 2007 Length in months: 24
Other members of the research group
Silvia BURINI
Svetlana NISTRATOVA

Titolo ricerca nazionale: "Il recupero della memoria: l'emigrazione russa in Italia nel Novecento (ricerche archivistiche e bibliografiche, digitalizzazione di materiali, analisi dell'eredità culturale)"
| | |
| --- | --- |
| Funding body | MIUR |
| Type | PRIN |
| Role in the project | LD |
| Sito di progetto | www.russinitalia.it |
| Starting date | Year: 2011 Length in months: 24 |
| Other members of the research group | Svetlana NISTRATOVA |
Verso un museo e una biblioteca virtuali della Russia italiana
Funding body
Università Ca' Foscari Venezia
Type
Progetti di Ateneo
Role in the project
SB
Starting date
Year: 2013 Length in months: 24
Other members of the research group
Matteo BERTELE'
Silvia BURINI