SDEGNO Emma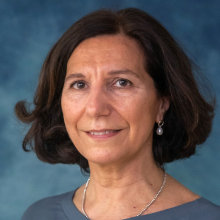 Emma Sdegno è Professoressa Associata di letteratura inglese (L-LIN/10) presso il Dipartimento di Studi Europei e Postcoloniali della Facoltà di Lingue e Letterature Straniere, Università Ca' Foscari Venezia.

Formazione e Ricerca
1989: laurea in Lingue e Letterature Straniere, Università Ca' Foscari Venezia.
1991: borsa di studio dal British Council in collaborazione col Ministero degli Affari Esteri per il corso di Master of Arts: Literature and the Visual Arts, 1840-1940, Reading University (UK).
1991-1992: part-time Language Assistant, Department of Italian Studies, Reading University.
1992: diploma di Master of Arts, Reading University.
1992-1994: docente di ruolo presso il Liceo Scientifico "G. Galilei" di San Donà di Piave (Ve).
1994-1998: partecipa al progetto di ricerca cofinanziato, "Ruskin e il Modernismo", Università di Milano, Vercelli, Venezia.
1994-1997 Dottorato di Ricerca in Anglistica IX ciclo, Università di Venezia, Padova e Verona.
2000: Ricercatrice di Lingua e letteratura inglese.
Incarichi istituzionali
2008-2013: Commissione orario di Ateneo per la sezione di inglese
2009-2013: Commissione per l'esame di co-certificazione Trinity Certificate - Ca' Foscari
2004-2005, 2011-2014: Collegio didattico LLMCO e LLEAP per la sezione di Anglistica per DSLLEP e del DSLCC
dal 2014: membro del collegio didattico LCSL
dal 2013: membro della Commissione paritetica del DSLCC
dal settembre 2015: Responsabile della Sezione di Anglistica
Sono coordinatrice di quattro scambi Erasmus (Université de Paris IV Paris-Sorbonne, University of Kent, University of Birmingham, University of Limerick).
Didattica
Ho tenuto corsi sulla saggistica vittoriana, il romanzo vittoriano, la poesia romantica, la storia della critica letteraria, la letteratura di viaggio, il romanzo modernista, i sonetti di Shakespeare, lingua inglese e traduzione letteraria.

Ambiti di ricerca
La mia ricerca e produzione scientifica vertono sulla retorica della saggistica inglese dell'800; sull'opera di John Ruskin e la sua ricezione in Francia ed in Italia nel Novecento; sulla letteratura di viaggio, con particolare riferimento alla costruzione dei miti delle Alpi e di Venezia; sul rapporto tra letteratura ed arti figurative, ed in particolare la critica vittoriana su Jacopo Tintoretto; sull'esegesi biblica tardo vittoriana; sulla traduzione letteraria e poetica.
Ho co-organizzato convegni internazionali su Ruskin (Ruskin, Venice and Nineteenth-Century Cultural Travel, 2008; Translate, Traduire, Tradurre Ruskin, 2019), su Dickens (Dickens 200 anni dopo: lezioni per il bicentenario, 2012) e sulla letteratura e cultura vittoriana (The Global and the Local, 2013). Ho promosso e sto organizzando con le colleghe di Ca' Foscari Martina Frank e Myriam Pilutti Namer, e Pierre-Henry Frangne dell'Université Rennes 2, il convegno internazionale: 'A great community': John Ruskin's Europe, Ca' Foscari Venezia, 7-9 ottobre 2019, nell'ambito delle celebrazioni per il bicentenario della nascita di John Ruskin.
Studio il rapporto di Ruskin con le istituzioni veneziane ed ho organizzato incontri sul tema coinvolgendo le stesse istituzioni. Presso la Scuola Grande di San Rocco, 2012: John Ruskin e Venezia, con Salvatore Settis; 2015: Comunità culturali ieri e oggi. La Guild of Saint George di Ruskin incontra la Scuola di San Rocco. Presso le Gallerie dell'Accademia, 2015: Ruskin e il Museo. Ho partecipato alle edizioni 2013, 2015, 2017, 2018 di Venetonight: la Notte dei Ricercatori, presentando, negli anni, attraverso gli scritti di Ruskin, i teleri di Tintoretto alla Scuola Grande di San Rocco, il ciclo di Sant'Orsola di Vittore Carpaccio all'Accademia, la Scuola Grande di San Marco. Dal 2016 coordino con degli artisti inglesi (The Poly-Technic) il progetto Enacting Fors: Ruskin and 21st century Venice, coinvolgendo studenti liceali ed universitari e specialisti in iniziative riguardanti i temi della memoria culturale e del ruolo dell'arte nella società.
Associazioni
Membro delle associazioni AIA ed ANDA, del Centre de Recherche sur la Litterature de Voyage (CRLV), Université Clermont-Ferrand, della Guild of Saint George. E' referee della rivista on-line di studi ruskiniani The Eighth Lamp e membro del comitato scientifico della rivista Scritture migranti del DSLCC.
Ultima modifica: 15/06/2020
Le informazioni riportate sono state caricate sul sito dell'Università Ca' Foscari Venezia direttamente dall'utente a cui si riferisce la pagina. La correttezza e veridicità delle informazioni pubblicate sono di esclusiva responsabilità del singolo utente.