PICERNI Federico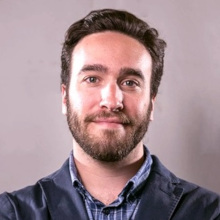 PhD candidate, Chinese literature
Department of Asian and North African Studies, Ca' Foscari University of Venice (advisor: Nicoletta Pesaro)
Heidelberg Centre for Transcultural Studies, Heidelberg University (advisor: Barbara Mittler)
_Education_
2018-present: Ph.D. in Asian and African Studies & Asian and Transcultural Studies, Ca' Foscari University of Venice & Heidelberg University.
2015-18: M.A. in History and Oriental Studies, University of Bologna.
2014-15: Non-degree 1-year advanced Chinese language course, Xi'an Jiaotong University.
2010-13: B.A. in Asian Languages, Markets and Cultures, University of Bologna.
_Research abroad and additional training_
2019-20: (September-January) Senior visiting student, Peking University (supervisor: Zhang Huiyu).
2019: (July) Summer school in "Modern Asian Literatures and Cultures", Palacký University Olomouc.
2017: (May-October) Chinese-Italian literary translation workshop, Confucius Institute of the University of Milan & Civica Scuola Interpreti e Traduttori "Altiero Spinelli".
2014: (February-May) Advanced Chinese language course, Confucius Institute of the University of Bologna.
_Presented papers_
Writing the country and meaning the city. Rural space, city and identity of authors in contemporary Chinese migrant-worker literature - Transcultural Connections: Migration in Asia, Europe and the Americas, Heidelberg University, 21-22 June 2019.
Migrant-worker writing in the social space of China's contemporary city - 11th Asian Dynamics Initiative Conference - PhD Workshop "The Asian City", University of Copenhagen, 18-19 June 2019.
Strangers in a familiar city? The urban space of Beijing seen and written by Picun migrant poets - The Transcultural Production of the Urban Space in Eurasia, Ca' Foscari University of Venice, 20-21 February 2019.
Family restructuring, marital crises and left-behind children and wives in Fan Yusu and Xu Zechen's stories - The invisible within: actors, relationships and activities in Chinese migrant families, University of Central Lancashire, 15-16 November 2018.
Gendered migration. City, countryside and gender in Xu Zechen's migrant fiction - 9th International Symposium for Young Researchers in Translation, Interpreting, Intercultural Studies and East Asian Studies, Universitat Autonòma de Barcelona, 29 June 2018.
_Academic teaching experience_
Teaching assistant in Chinese language and translation (M.A.), Ca' Foscari University of Venice (2019).
_Lectures_
"Picun's writers in the literary field of Beijing; Beijing in the literary works of Picun's writers", University of Chicago Center in Beijing, 3 December 2019.
"Contrordine compagni! Il linguaggio omosessuale in Cina" (Pull back, comrades! Homosexual language in China), University of Bologna, 7-8 November 2018.
_Scholarships and awards_
1-semester Joint Research Ph.D. Fellowship awarded by Hanban/Confucius Institute Headquarters (May 2019).
3-year PhD full scholarship awarded by the Department of Asian and North African Studies of Ca' Foscari University of Venice (September 2018).
Grant to conduct M.A. thesis-related fieldwork at Peking University offered by the School of Humanities of the University of Bologna (June 2017).
Second prize, 15th Hanyuqiao/Chinese Bridge Chinese Proficiency Competition, Italy-San Marino (April 2016).
Hanban scholarship for a full academic year in China (June 2014).
_Memberships_
_Research groups and networks_
_Additional relevant professional experience_
Since 2013 I have been working as a freelance translator and interpreter (Chinese, English, Italian), collecting experience in a number of sectors, including cultural events, film festivals, and the judiciary. In this respect, I have worked with the Confucius Institute, the China Children's Press & Publication Group and European Union bodies, among others. Starting from 2015 I have also worked as a teacher of English and Chinese at private and public schools.
Ultima modifica: 15/12/2019
Le informazioni riportate sono state caricate sul sito dell'Università Ca' Foscari Venezia direttamente dall'utente a cui si riferisce la pagina. La correttezza e veridicità delle informazioni pubblicate sono di esclusiva responsabilità del singolo utente.