KRAPOVA Iliana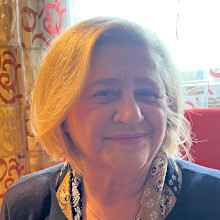 Iiyana Krapova was born in Plovdiv, Bulgaria in 1960. She has received an MA major degree in Classical languages, and a minor in English from Sofia University "Sv. Kliment Ohridski" (1978-1983). From 1984 until 2004 she has taught at Plovdiv University "Paisij Hilendarski" various courses in General linguistics, Ancient Greek and Latin. She got her PhD degree in General and Comparative Linguistics in 1996. Since 2005 is an Associate Professor at the University of Venice Ca' Foscari where she teaches Slavic linguistics for undergraduate and graduate students, as well as Bulgarian (as a third language). Iliyana Krapova has been a Fulbright research scholar at the Linguistics Department, University of Massachusetts at Amherst, USA (1994-1995); Research Fellow at The Institute for Advanced Studies in the Humanities, University of Edinburgh (1997); visiting scholar at the Department of Linguistics, University of Connecticut, USA (2002). She has taught or given lectures at various universities and summer schools abroad: University of Massachusetts at Amherst (1995), University of Edinburgh (1997), University of Olomouc, The Czech Republic (at the 4th Central European Summer School, 1997), Department of Linguistics, University of Venice (Corso di Perfezionamento in Linguistica e Filosofia del Linguaggio (2000), University of Sofia (2001, 2002, 2003), Charles University of Prague (2004), University of Trieste (2004, 2005), University of Koper (2008), University of Bucharest (2009), Indiana University, Institute for Bulgarian Language (2011).
Iliyana Krapova's scientific interests include Slavic linguistics, Balkan linguistics, and in particular the comparative syntax of (South) Slavic and Balkan languages, Bulgarian linguistics, and Bulgarian dialectology. She is a member of AIS (Associazione degli Slavisti Italiani) and of AISSEE (Associazione italiana studi sul sud-est europeo) and of the Commission for Balkan linguistics of the International Commission of Slavists. 
Ultima modifica: 18/05/2018
Le informazioni riportate sono state caricate sul sito dell'Università Ca' Foscari Venezia direttamente dall'utente a cui si riferisce la pagina. La correttezza e veridicità delle informazioni pubblicate sono di esclusiva responsabilità del singolo utente.