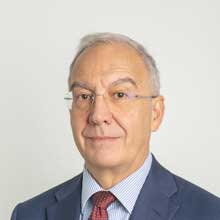 Activities and research skills
General information
Scientific sector (SSD)

FINANZA AZIENDALE [SECS-P/09]
Geographic areas in which the research experience mainly applies

Nazionale
Known languages

inglese (scritto: avanzato parlato: avanzato)
francese (scritto: base parlato: intermedio)

Participation in editorial boards of scientific journals/book series

Membro del comitato scientifico della rivista Finanza Marketing e Produzione, Università Bocconi, ed. EGEA.

Presidente del Comitato scientifico dell'Osservatorio Economico-Giuridico Latino Americano e del Comitato di redazione della sua rivista "Al News - Il notiziario economico-giuridico per l'America Latina"
Participation as referees of national and international research projects

Referee per la Rivista della Società Italiana di Marketing, relativamente a tematihce relative a prodotti e/o intermediari finanziari;
Referee per la rivista Finanza Marketing e Produzione;
Referee per la selezione dei paper della International Risk Management Conference 2010, 2011 e 2012,
2010 - Referee per la valutazione dei progetti di ricerca del Dipartimento di Scienze Aziendali dell'Università di Firenze, al fine dell'assegnazione di un Assegno di Ricerca "premiale" sulla base di una valutazione meritocratica indipendente.

Areas and research fields

Area: Azienda Linea: Settori finanziari - modelli e metodi
Area: Azienda Linea: Settori industriali - politiche e gestione
Area: Chimica Fisica e Materiali Linea: Chimica Fisica dei materiali
Area: Chimica Fisica e Materiali Linea: Green Chemistry
Area: Economia Linea: Not-for-profit - politiche e gestione
Area: Economia Linea: Settori finanziari - politiche e gestione
Area: Economia Linea: Settori industriali - politiche e gestione
Area: Studi storici e relazioni internazionali Linea: Giappone

Research skills
Analisi della dinamica finanziaria aziendale e valutazione delle azienda

Description:

Cash flow analysis and corporate valuation

Keywords:

Financial management, Private equity, Valuation
Completed and pending researches
Il ricorso agli strumenti derivati per la copertura dei rischi finanziari

SSD:

SECS-P/09
Investor Relations and Corporate Social Responsability

SSD:

SECS-P/09

Other members of the research group:
Rischio informativo e comunicazione finanziaria: il ruolo dell'inverstor relation manager

SSD:

SECS-P/09
The value of Enterprise Risk Management

SSD:

SECS-P/09

Other members of the research group:
Funds
Contributo organizzazione convegno Internationa Risk Management Conference

Funding body:

Banca della Marca Credito Cooperativo

Type:

Altri finanziamenti di ricerca

Role in the project:

NS
Erasmus + ICM KA107 con il Giappone 2018

Funding body:

Commissione Europea

Type:

Erasmus+

Role in the project:

LD

Starting date:

Year: 2018 Length in months: 26

Other members of the research group:
Perequazione specifica aziendale

Funding body:

Cassa Conguaglio Settore Elettrico

Type:

Conto terzi - Consulenza e analisi

Role in the project:

LD

Starting date:

Year: 2010 Length in months: 24

Other members of the research group:
Perequazione specifica aziendale per le imprese minori

Funding body:

Cassa Conguaglio Settore Elettrico

Type:

Conto terzi - Prestazioni di ricerca

Role in the project:

LD

Starting date:

Year: 2013 Length in months: 18

Other members of the research group:
Qualità della disclosure, previsioni degli analisti finanziari e strategie di investimento

Funding body:

MIUR

Type:

PRIN

Role in the project:

PT

Starting date:

Year: 2007 Length in months: 24

Other members of the research group:
Ricerca sulla Perequazone Specifica Aziendale

Funding body:

Cassa Conguaglio Settore Elettrico

Type:

Conto terzi - Consulenza e analisi

Role in the project:

LD

Starting date:

Year: 2010 Length in months: 30