CELENTANO Augusto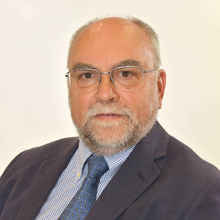 Faculty
Augusto Celentano received a Master degree in Electronic Engineering from Politecnico di Milano (Technical University of Milan, Italy) in 1973. He is Professor Emeritus of Information Processing Systems at Università Ca' Foscari Venezia (Ca' Foscari University of Venice), where he has been full Professor from 1995 to 2016. 
He is member of the Data Monitor Board of Ca' Foscari. He has been Director of the Department of Computer Science, Deputy Rector for the University Information System, member of the Academic Senate, member of the Advisory Board of the University, and President of the Commission for Multimedia and Distance Learning. 
Before joining Ca' Foscari he has been at Politecnico di Milano, at University of Brescia and at Technical University of Bari.
Teaching
Augusto Celentano has taught an undergraduate course in Operating Systems and a graduate courses in Multimedia Systems until 2016. He has taught courses in the areas of database systems, programming languages and computer science fundamentals in schools of Computer Science, Information Engineering and Humanities. He has taught in Doctoral schools in Computer Science and Information Engineering at the Universities of Naples, Salerno and Turin. He has taught Master courses in Computer Science for Humanities at Ca' Foscari University of Venice and in Multimedia Information Systems at INSA, Institut National des Sciences Appliquées of Lyon, France.
Research
The research interests of Augusto Celentano are multimedia systems (multimedia document modelling, fast prototyping systems for multimedia applications, adaptable and context-aware multimedia systems), human-computer interaction (adaptable and context-aware interaction, models for tangible interaction systems), ubiquitous computing (context-aware mobile systems, multimodal mobile interaction) and interactive multimedia systems for cultural heritage promotion and fruition. In this area he has co-directed an interdisciplinary research group for the study and development of novel interactive mobile systems for museums whose results have been demonstrated in several exhibitions held in Venice and Vicenza from 2009 to 2012.
He has worked also in the areas of multimedia information retrieval systems, technologies for distance learning, information systems for the web, software engineering and programming languages. He has published more than one hundred scientific papers in internations journals, books and conference proceedings.
Professional activity
Augusto Celentano has coordinated the "Advanced Information Technology Systems" area of Cefriel, a Consortium for Research and Education in Information Technology, participated by Politecnico di Milano. He has also worked as a scientific coordinator and consultant in several EU projects in Information Technology, and has been member of the Scientific Council of Nesting srl, a technology transfer company in Venice.
Editorial activity
Augusto Celentano has been member of the Steering Committee of the Conference AVI, Advanced Visual Interfaces (in cooperation with ACM). He has been program co-chair and general chair of the DMS Conference, Distributed Multimedia Systems, in 2009 and 2010 respectively; general chair of AVI 2006, Advanced Visual Interfaces; co-chair of MapISNet 2007, Map-Based Interaction for Social Networks , and MIS 2005, International Workshop on Multimedia Information Systems. He is member of the program committee of international conferences in the areas of database systems, multimedia systems and human-computer interaction.
He has been guest editor of a special issue of ACM TOMCCAP, Transactions on Multimedia Computing, Communications and Applications.
He serves as a revisor for the international journals IEEE Signal Processing, Journal of Visual Languages and Computing, Computer Vision and Image Understanding, and Multimedia Tools and Applications.
Le informazioni riportate sono state caricate sul sito dell'Università Ca' Foscari Venezia direttamente dall'utente a cui si riferisce la pagina. La correttezza e veridicità delle informazioni pubblicate sono di esclusiva responsabilità del singolo utente.