Degree-seeking students

Ca' Foscari welcomes students with international qualifications and provides support throughout their academic career, helping to foster an international community as Venice has done since its foundation. Degree-seeking students who choose to enrol in one of Ca' Foscari's degree programmes can benefit from a wide range of services, events and initiatives.
Before arriving at Ca' Foscari, students can contact the Counseling and Welcome Unit of the International Office for more information about enrolment procedures, the assessment of foreign academic qualifications, residence permits, obtaining an Italian fiscal code, healthcare, hospitality and how to become an active member of the Ca' Foscari community.
Contacts and reservations
International Welcome Week
for degree-seeking students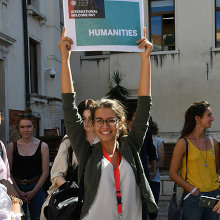 The International Welcome Week is organized by the International Office at the beginning of the fall and spring semesters to help new international degree-seeking students settle in to life at Ca' Foscari.
Fees, scholarships and incentives
How to live in Venice
Other opportunities
Last update: 05/12/2023