International Welcome Week
for degree-seeking students
In order to help new international students settle in to life as part of the Ca' Foscari community, the International Office organizes a series of institutional orientation events and social activities known as the International Welcome Week. These events transpire in the period leading up to and during the beginning of the fall and spring semesters, with the bulk of them taking place in the week before classes begin.
If you are an international student planning or preparing to join us in Venice, read on to learn more about how the International Welcome Week can make the beginning of this adventure much smoother and more enjoyable! Also, be sure to familiarize yourself with Ca' Foscari's Buddy Programme, which offers the opportunity to connect with current students who are keen to lend you a helping hand.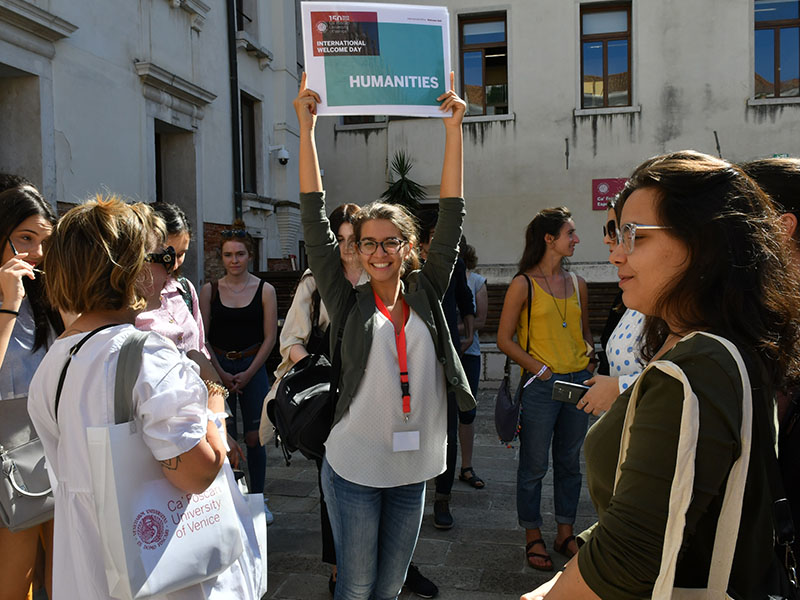 Orientation events
These encounters are fundamental to learning about essential administrative procedures and are designed to help you understand and dive into life as an international degree-seeking student at Ca' Foscari.
Dedicated sessions inform you all about:
how to complete your enrolment;
how to carry out essential immigration procedures, including obtaining your Italian permit of stay, health insurance and fiscal code.
You can also take an in-person tour of the Economics, Humanities, Scientific and Linguistic campuses so that it is easier to get around, and you will be given the opportunity to meet some of the people who offer you our student services and run our student clubs.
Information about the specific schedule of events for your semester of arrival will be sent via email a couple of months beforehand.
Contacts and reservations
International Office - Welcome Unit
tel. +39 041 234 7575
Enrolment procedures welcome@unive.it
Immigration procedures immigrationteam@unive.it
Social events and activities
The International Welcome Week also includes some light-hearted events whose purpose is to put you and all of the other new degree-seeking and incoming exchange students in contact with one another in order to facilitate the creation of a sense of community and belonging from the very start of your Ca' Foscari experience.
Information about the specific schedule of events for your semester of arrival and the links you need to reserve a spot for the events that interest you will be sent via e-mail about a month beforehand.
Here are some of the activities that are usually organised:
international student mixers with snacks and drinks
multilingual cappuccino breakfasts
dragon boat outings
tours of the university's historic buildings
a beginner's Italian lesson
a team-based treasure hunt across Venice
plogging
a board games room
…and much, much more!
Contacts and reservations
Useful links and material
Last update: 16/11/2023