Incoming mobility

Ca' Foscari University opens its doors to students, researchers, teaching staff, and technical and administrative staff from abroad, for mobility periods for the purpose of study, participation in internships, research, teaching and training in Venice.
Contacts and reservations
Find out more about the mobility programmes and opportunities to come to Ca' Foscari, useful information on living in Venice and contacts that will help you settle down in your first weeks and enjoy your stay in Italy.
Discover Ca' Foscari with Erasmus and return as an international scholar
"I had an excellent time in Venice as an Erasmus student and going back to Ca' Foscari will be like the second chapter of a rich story in an exceptional city. Wandering around the city to discover different places of knowledge, having classes in century-old buildings, hearing seagulls and vaporetti along the Grand Canal while attending courses or working in university libraries gave life a unique taste."
Read the story of Elise Franssen, a researcher at University of Liege who has chosen to return to Venice as winner of a "Marie Curie" grant.
International Welcome Week
for incoming international exchange students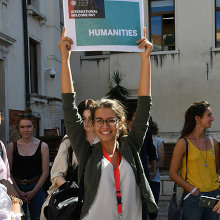 The International Welcome Week is organized by the International Office to help new incoming international exchange students settle in to life at Ca' Foscari.
How to Live in Venice
Last update: 22/11/2023