International project
CICF – HANZE Honours Exchange, 9-11 October 2019
The honours exchange workshop between Ca' Foscari International College and Hanze University of Applied Sciences in Groningen is the first international mobility programme organized on San Servolo Island by the International College, in October 2019. The project was born thanks to the collaboration between these two institutions in terms of promoting and comparing honours programmes in Europe.
Eight talented Dutch students together with eight selected College students took part in a three-days intensive workshop focused on Fear, Uncertainty, Risk Perception and the Media, coordinated by Phd. Carlo Santagiustina. Students, divided into small teams, analysed textual web data and discussed processes of web-based diffusion of collective uncertainties and fears, as well as their effects on political, economic and social systems. Students had also the chance to take part in a field boat-trip around the Venice North Lagoon and its systems of defence against high tides, in a guided tour of the Venice Ghetto, one of the eldest in the world and to meet face-to-face Frank Westerman, world-wide known Dutch reporter and artist in residence on San Servolo island.
The exchange will go on next February, when Venetian college students will meet and work on global issues with their fellows in Groningen.
Students involved in the exchange acquire up to 2 ECTS valid for the European academic credit transfer system.
---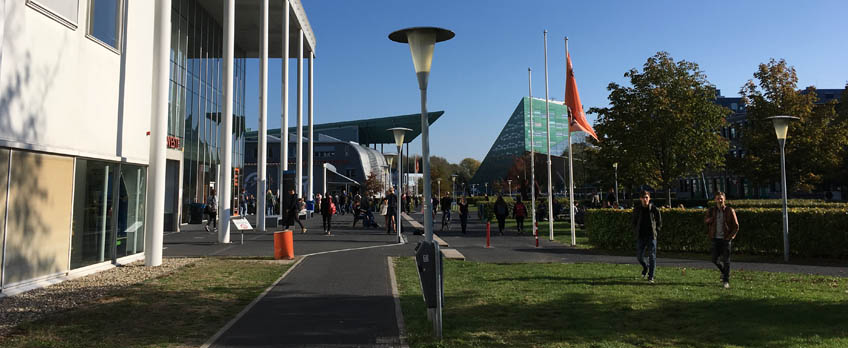 STEAM+
Ca' Foscari International College is one of the 9 main European partners involved in an innovative project concerning innovation in higher education.
STEAM + - Innovating STE(A)M in Higher Education with Transdisciplinary Talent Programs is a 667.000 euro worth project co- funded by the Erasmus+ Programme of the European Union (logo), one of the Key Action3 Forward-Looking Cooperation projects aiming at promoting innovation to support policy reforms.
17 partners among higher education institutes, research centres from 9 countries (Netherlands, Austria, Belgium, Denmark, Germany, Italy, Lithuania, Norway and Romania) came together to draw an ambitious three-year plan to use transdisciplinary talent programs as laboratories of innovation in higher education.
This is meant to face grand challenges -such as climate change and energy transition- which often have a STEM (science, technology, engineer and mathematics) subject at their core but need transversal skills and knowledge from A (All other disciplines) to elaborate new solutions.
Three co-creation international workshops where students and teachers will work together at the same level are meant to draw guidelines to produce two main outputs:
STEAM+ Innovation Lab Implementation Path, an instrument on how to establish transdisciplinary talent programs in Higher Education
STEAM+ Menu for Policy Inspiration , an instrument for policy makers in Higher Education, local, regional, national and EU levels to support and recognize (development of) transdisciplinary talent programs
The final goal is to test that innovation coming from transdisciplinary talent programs can be applied to different educational systems and help European societies elaborate new solutions to future grand challenges.
The results will be spread out in partner countries through local meetings and dissemination workshops.
Ca' Foscari International College will host the first workshop in Venice on July 2020.
Download
Last update: 29/01/2020