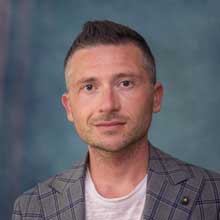 TROVATO Giuseppe
Position

Associate Professor
Telephone

041 234 6685 / 041 234 9474
E-mail
Scientific sector (SSD)

LINGUA E TRADUZIONE - LINGUA SPAGNOLA [L-LIN/07]
Website

www.unive.it/persone/giuseppe.trovato (personal record)

Office
Office
Activities and research skills
General information
Scientific sector (SSD)

LINGUA E TRADUZIONE - LINGUA SPAGNOLA [L-LIN/07]
Geographic areas in which the research experience mainly applies

Internazionale: Europa
Known languages

Spagnolo (scritto: avanzato parlato: avanzato)
Inglese (scritto: avanzato parlato: avanzato)
Francese (scritto: intermedio parlato: intermedio)
Tedesco (scritto: base parlato: base)
Portoghese (scritto: base parlato: base)

Participation in editorial boards of scientific journals/book series

Membro del Comitato Editoriale e Scientifico delle seguenti riviste: BEOIBERÍSTICA, E-Scripta Romanica, El Guiniguada, Cuadernos de Lingüística Hispánica, Revista de Artes y Letras Káñina, Revista de Lenguas Modernas, Romanica Olomucensia, Cuadernos del Hipogrifo, Cruces y bordes: la voz de la otredad. El inglés y el español en los Estados Unidos.
Participation as referees of national and international research projects

esperto nominato e incaricato dal CONICYT (Comisión Nacional de Investigación Científica y Tecnológica de Chile) di valutare il progetto di ricerca 1170419 coordinato dalla Prof.ssa Gertrudis Payas Puigarnau che ha partecipato al "Concurso FONDECYT Regular 2017".
Titolo del Progetto di ricerca: Mediación lingüístico-cultural y castellanización en los ámbitos de contacto mapudungun-castellano derivados del proceso de chilenización de la Araucanía: producción lingüística y etnográfica, administración de justicia y escolarización (1880-1930).

Areas and research fields
Research skills
Linguistica contrastiva spagnolo-italiano

Description:

Contrastive Linguistics between Spanish and Italian

Keywords:

Comparative linguistics, Semantics, Syntax

ATECO code:

[72.20] - ricerca e sviluppo sperimentale nel campo delle scienze sociali e umanistiche
Traduzione spagnolo-italiano e Pedagogia della Traduzione

Description:

Spanish-Italian Translation and its Pedagogy

Keywords:

Comparative linguistics, Translation

ATECO code:

[72.20] - ricerca e sviluppo sperimentale nel campo delle scienze sociali e umanistiche
Traduzione specializzata spagnolo-italiano e Pedagogia della Traduzione specializzata

Description:

Spanish-Italian Specialised Translation and its Pedagogy

Keywords:

Comparative linguistics, Translation

ATECO code:

[72.20] - ricerca e sviluppo sperimentale nel campo delle scienze sociali e umanistiche
Lingua e Traduzione spagnola in ambito turistico

Description:

Spanish Language and Translation in the field of Tourism

Keywords:

Semantics, Lexicology, Translation

ATECO code:

[72.20] - ricerca e sviluppo sperimentale nel campo delle scienze sociali e umanistiche
Fraseologia, Traduzione, Contrastività

Description:

Fraseology, Translation and Contrastive Linguistics

Keywords:

Translation, Comparative linguistics, Lexicology

ATECO code:

[72.20] - ricerca e sviluppo sperimentale nel campo delle scienze sociali e umanistiche
Didattica della Lingua Spagnola

Description:

Teaching Spanish as a Foreign Language

Keywords:

Sociolinguistics, Experimental education, Foreign languages teaching

ATECO code:

[72.20] - ricerca e sviluppo sperimentale nel campo delle scienze sociali e umanistiche
Mediazione linguistica e culturale

Description:

Linguistic and Cultural Mediation

Keywords:

Interpreting, Translation, Sociolinguistics

ATECO code:

[72.20] - ricerca e sviluppo sperimentale nel campo delle scienze sociali e umanistiche
Lessicografia, fraseologia, traduzione

Description:

Lexicography, phraseology, translation

Keywords:

Lexicology, Comparative linguistics, Translation

ATECO code:

[72.20] - ricerca e sviluppo sperimentale nel campo delle scienze sociali e umanistiche